Looking forward to the year ahead - Workplace law changes and how employers can prepare
---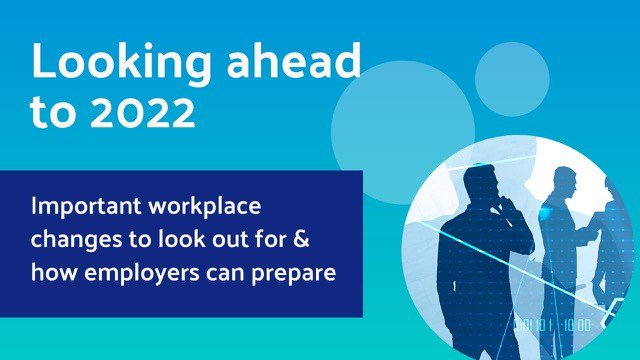 Workplace Law changes to look out for in 2022
As the new year approaches, we have outlined some of the top workplace law issues that employers need to look out for in 2022. We have also suggested some action points to consider. We hope you find these useful as you start preparing for the year ahead. We have also highlighted some key judgments expected from the courts.
Employment costs to increase
Increase in National Insurance Contributions
National Insurance contributions for employers and employees will rise by 1.25% from 6 April 2022. The increase will fund health and social care and will be replaced in April 2023 by a separate health and social care levy (and NIC rates will revert to current levels at that point).
Increase to National Living Wage and National Minimum Wage
The National Living Wage and National Minimum Wage will also increase, with increases larger than normal. From 1 April 2022, the following hourly rates will apply:
Aged 23 and over: £9.50 (up from £8.91)
Aged 21 to 22: £9.18 (up from £8.36)
Aged 18 to 20: £6.83 (up from £6.56)
Aged 16 to 17: £4.81 (up from £4.62)
Apprentice rate: £4.81 (up from £4.30)
Employers that have signed up to pay their staff the real Living Wage have had to pay them £9.90 per hour (£11.05 in London) since 15 November 2021.
Statutory Payments and Compensation
We will also see the usual April increases in statutory maternity, adoption, shared parental, parental bereavement and sick pay, together with an increase in redundancy payments, the maximum compensatory award for unfair dismissal and injury to feelings awards for discrimination.
Action Points
Employers will need to factor in the increased costs of employing staff. They will also need to identify staff who are earning around National Living Wage and National Minimum Wage levels and ensure they are being paid at the correct rate from 1 April 2022.
Equality reporting
Gender Pay Gap
Private and voluntary sector employers employing 250 or more employees are required to report annually on their gender pay gap. The deadline for publication is 4 April 2022. Public sector employers also have gender pay gap reporting obligations and their deadline for compliance is 30 March 2022.
By no later than 5 April 2022, the Government has to review the Gender Pay Gap Reporting Regulations and publish a report on their effectiveness. The report will consider whether the Regulations meet the policy objective of reducing the overall gender pay gap and whether they impose an unnecessary burden on employers. This could lead to changes in the Regulations, including fines for non-compliance and/or mandatory action plans to address identified pay gaps. The Government confirmed back in 2019 that it would not be extending reporting obligations to smaller employers but may consider revisiting this issue in future. There is therefore a possibility that smaller employers could be required to report, but it seems unlikely that this will be introduced in 2022.
Changes to Listing Rules and Disclosure and Transparency Rules
Following its consultation in July 2021, the Financial Conduct Authority is expected to make changes to the Listing Rules and Disclosure and Transparency Rules for accounting periods starting on or after 1 January 2022. Changes to the Listing Rules could see listed companies having to state in their annual financial reports whether they have met certain diversity targets and, if not, explain why. They could also be required to report on the gender and ethnic make-up of their boards and most senior level of executive management. Changes to the Disclosure and Transparency rules could lead to a company's disclosure on its diversity policy having to include the diversity policy applied to its remuneration, audit and nomination committees, as well as covering broader aspects of diversity such as ethnicity, sexual orientation, disability, lower socio-economic background and other characteristics. The FCA's consultation closed on 20 October 2021. Subject to consultation feedback and FCA Board approval, the FCA has said it will seek to make relevant rules by early 2022.
Ethnicity Pay Gap
The Government has promised a response to its consultation on mandatory ethnicity pay gap reporting "in due course", after an online petition calling for its introduction forced a parliamentary debate on the subject in September 2021. This response may therefore be published in 2022.
Disability Workforce Reporting
On 16 December 2021, the Government launched a consultation on disability workforce reporting for employers employing 250 or more employees. The consultation explores both voluntary and mandatory reporting on the disability profile of the workforce and closes on 25 March 2022. The consultation response and next steps are likely to be published in 2022.

Action Points

Employers who are required to report their gender pay gap should make sure they are ready to do so by the reporting deadline, otherwise they risk enforcement action. They should also monitor developments in this area to see if any change in approach will be required going forwards. All employers will need to watch out for any developments regarding ethnicity pay gap and disability workforce reporting, although changes in this area could be some time off.
Listed companies affected by changes to the Listing and Disclosure and Transparency Rules should be considering whether they meet the diversity targets and if not, their explanation for this and how they are going to improve on this going forwards. They will also need to put together the relevant information so that they are able to report on the gender and ethnic make-up of their boards and most senior level of executive management.
Employers should also consider whether they wish to respond to the disability workforce reporting consultation.
Menopause and the workplace
The Women and Equalities Committee's inquiry into menopause in the workplace is examining the extent of discrimination faced by menopausal women at work and investigating how Government policy and workplace practices can better support them. The Committee's recommendations are expected to be published in 2022 and could lead to changes to the Equality Act 2010 to better protect menopausal women suffering discrimination at work.
Action Points
Many employers have already introduced menopause policies, together with staff training to raise awareness. If you haven't done so already, this is something that you might wish to consider for 2022.
Flexible working changes
The Government's consultation on changes to flexible working laws closed on 1 December 2021. Its response should follow in 2022 although it is unclear when any changes will be implemented. Changes being considered include:
Giving employees the right to request flexible working from day one of their employment
Changes to the eight business reasons an employer can rely on for refusing a request
Requiring employers to suggest alternatives if they are unable to agree a request
Allowing employees to make more than one request in any 12 month period
Requiring employers to respond more quickly
Allowing employees to request a temporary arrangement
Action Points
Employers will need to update flexible working policies to reflect any changes. They may also want to consider at the outset whether jobs can be done on a flexible working basis and whether to advertise jobs on this basis. It may be less disruptive to have an open discussion about flexible working during the recruitment process than to appoint a candidate and face a flexible working request as soon as they join.
Carer's leave - new right
The Government has confirmed that it will introduce a right for employees to take one week's unpaid carer's leave each year. The right, which is expected to be included in the Employment Bill, will be introduced when Parliamentary time allows. It is unclear whether the right will come into force in 2022.
The right will be a day one right for employees to take time off to care for their spouse, civil partner, child, parent or someone living in the same household or who reasonably relies on them for care. The person they are caring for must have a long-term care need. Employees will be protected from dismissal and other detrimental treatment as a result of taking leave.
Action Points
Employers will need to update leave policies to include the new right when it is introduced. They may also wish to consider whether to provide this benefit now before it becomes a legal requirement.
Family leave and pay reforms
Back in 2019 the Government consulted on how it might reform the whole range of family leave and pay currently available to parents, including shared parental, maternity and paternity leave and pay and unpaid parental leave. The Government's response to the consultation is still awaited and so could be published in 2022.
Action Points
Employers do not need to do anything for now other than monitor any developments in this area.
Sexual harassment - increased protections
The Government confirmed in its response to its 2019 consultation on preventing sexual harassment at work that it will introduce a new duty requiring employers to prevent sexual harassment in the workplace. Employers will be required "to take all reasonable steps" to prevent sexual harassment occurring and the Equality and Human Rights Commission will develop a statutory code of practice to help employers comply. It will also introduce laws protecting employees against harassment by third parties and consider extending the three-month time limit for bringing claims under the Equality Act 2010 to six months. The Government has said it will introduce legislation "as soon as parliamentary time allows" and so it is unclear whether we will see these changes in 2022.
Action Points
Although we may not see changes in the law imminently, employers will want to be as sure as they can be that their workplace is free from all forms of harassment. Employers should make sure they have an effective anti-harassment policy, that staff receive regular training and that they have proper processes in place for dealing with harassment complaints. They should also make it clear to third parties such as customers and clients that harassment of staff is unacceptable.
New Employment Bill changes
Back in December 2019, the Government announced a series of measures that would be included in a new Employment Bill. The Bill has not been published and was not mentioned in the 2021 Queen's speech. However the Government has said that it will be introduced when Parliamentary time allows. It is therefore unclear whether any of the changes in the Bill will come into force in 2022. In addition to flexible working changes and introducing the right to carer's leave (see above), the Government indicated that the Bill would:
Extend redundancy protection for pregnant women and new parents. The obligation to offer a suitable available vacancy to a woman on maternity leave whose position is redundant will instead apply from the point at which she informs her employer that she is pregnant until six months after the end of her maternity leave. Similarly, those taking adoption and shared parental leave will be protected both during leave (as currently) and for six months after their return
Introduce a new right to neonatal leave and pay for parents whose babies require neonatal care
Require employers to pass on all tips and service charges to workers. The Government has said that these changes will come into force no earlier than one year after the Bill has been enacted and so the changes will not be in force in 2022
Provide workers with a right to request a more predictable and stable contract after 26 weeks' service so that those on zero hours contracts can request guaranteed hours which better reflect the hours worked
Create a single enforcement body for employment rights, replacing the HMRC National Minimum Wage Enforcement Team, the Employment Agency Standards Inspectorate and the Gangmasters and Labour Abuse Authority. The body will have an extensive remit to protect workers, including in relation to the National Minimum Wage, labour exploitation and modern slavery, holiday pay for vulnerable workers, statutory sick pay and unpaid tribunal awards
Action Points
Employers do not need to do anything for now other than monitor any developments in this area.
Key judgments expected in 2022
We can expect to see the following judgments handed by the courts and tribunals:
The Supreme Court's decision in Smith v Pimlico Plumbers on whether a worker who took holiday but was not paid for it could carry over the right to payment into subsequent holiday years and claim for it all on termination. Click here for information on the Court of Appeal's decision
The Supreme Court's decision in Harpur Trust v Brazel on calculating holiday entitlement for part year workers. Click here for information on the Court of Appeal's decision
The Court of Appeal's decision in Angard Staffing Solutions Ltd v Kocur and others on whether:

a worker with an open-ended employment contract with an agency that only supplied workers to Royal Mail was nonetheless supplied to work "temporarily" for Royal Mail, and therefore an "agency worker" with rights under the Agency Workers Regulations 2010. Click here for details of the Employment Appeal Tribunal's decision
agency workers have the right to apply for and be considered for vacancies at the hirer, or merely a right to be informed of vacancies
agency workers are entitled to work the same shift lengths as comparable directly recruited employees
Right to work checks: end to Covid-adjusted checks
From 6 April 2022, employers will no longer be able to conduct Covid-adjusted digital right to work checks. These checks have been permitted during the Covid-19 pandemic and replaced the requirement for in-person checks while many businesses were working remotely (either wholly or partially). However, this does not necessarily mean that employers will have to return to in-person checks from 6 April. The Government has indicted that it intends to introduce a 'new digital solution' to include those who cannot use the Home Office online system (such as UK and Irish citizens). We can expect further details on this in the new year.
New visa routes
There are some key changes to the Immigration Rules expected in 2022 including the introduction of several new visa categories (Global Business Mobility route, Scale-up route, High Potential Individual route), expansion of the Youth Mobility Scheme to Iceland and India and the reform of other routes, such as the Intra-company Transfer route.
In addition, the UKVI's digitisation of the immigration system will remain ongoing in order to simplify the UK immigration system.
Action Points
Employers will need to watch out for updates from the Home Office to see if a new digital solution is put in place for right to work checks. Otherwise, they will need to be ready to do in-person checks from 6 April 2022.
Key details of the expected changes to the Immigration Rules remain unknown, so employers should keep an eye out for changes to the UK immigration system and the introduction of new routes.
Pension Schemes Act 2021: greater sanctions
The Pension Schemes Act 2021 came into force in October 2021 and represents a major development in UK pensions governance. Amongst other things, it significantly expands the scope of the Pensions Regulator's (tPR) powers to take action against individuals and corporates involved in the running of defined benefit pension arrangements. Importantly, tPR can now issue sanctions in a number of new ways, including:
Financial penalties - of up to £1 million for any person who is guilty of any non-compliance with an order, direction, or penalty imposed by tPR
Contribution notices - new and more flexible grounds for issuing a party "connected or associated" with a defined benefit scheme with a contribution notice. A contribution notice requires the recipient to put in place additional financial support for the scheme
Unlimited fine - a further unlimited fine for anyone who fails to comply with the terms of a contribution notice
Imprisonment – for up to 7 years for anyone who avoids a pensions debt or does anything which presents a risk to members' benefits under the scheme
These new powers significantly expand tPR's functions and have attracted a great deal of attention from within the pensions world. This is because now, in theory, tPR can take enforcement action against a much wider range of people who are involved, however loosely, in the running of a pension scheme, including, for example, third party advisers. Understandably, this has caused a certain amount of disquiet across the industry, and tPR has issued a follow up statement to clarify that it only intends to exercise these powers rarely, and the vast majority of people in the pensions industry have no reason to be concerned.

These new powers will also not be retrospective and so tPR does not have any grounds to take action in respect of anything which occurred prior to October 2021. If you are involved with a defined benefit pension scheme, whether as a sponsoring employer, a trustee, or in some other professional role, we have some suggestions on what you should be doing.
Action Points
Get up to speed on the changes made by the Pension Schemes Act 2021 and, in particular, understand how they could impact you and your position.
Consider whether or not something you, or someone else is doing or considering doing could bring you within scope for tPR to take action against you.
Carefully consider and minute your view on the impact of a particular action on a pension scheme. This will enable you to show that you have given due consideration to the scheme at every stage of a transaction, and that you took steps where appropriate to mitigate the impact on the pension scheme. This will help you demonstrate that you have acted reasonably and proportionately as regards your duties to the scheme, and may give you the basis of a defence against any future enforcement action by tPR, if you need it.
Data protection: changes to guidance
In August 2021, the Information Commissioner's Office called for views to help shape its new data protection and employment practices guidance. The existing employment practices guidance (including the employment practices code, supplementary guidance and the quick guide) will be replaced with updated guidance reflecting changes in the law and how working life has changed over recent years.
We expect the changes to reflect the increased use of artificial intelligence and machine learning, more varied and widespread use of monitoring technologies and the increase in remote/hybrid working resulting from the Covid-19 pandemic. The consultation closed on 28 October 2021 and we could therefore see the new guidance published in 2022.
Action Points
When the new guidance is published, employers should check that their data processing activities comply with the new guidance. They should also review and update their data protection policies and data protection impact assessments as necessary.
The articles published on this website, current at the date of publication, are for reference purposes only. They do not constitute legal advice and should not be relied upon as such. Specific legal advice about your own circumstances should always be sought separately before taking any action.