Employment law and HR support for further and higher education institutions
---
Navigating the complexities and freeing up your valuable time and resources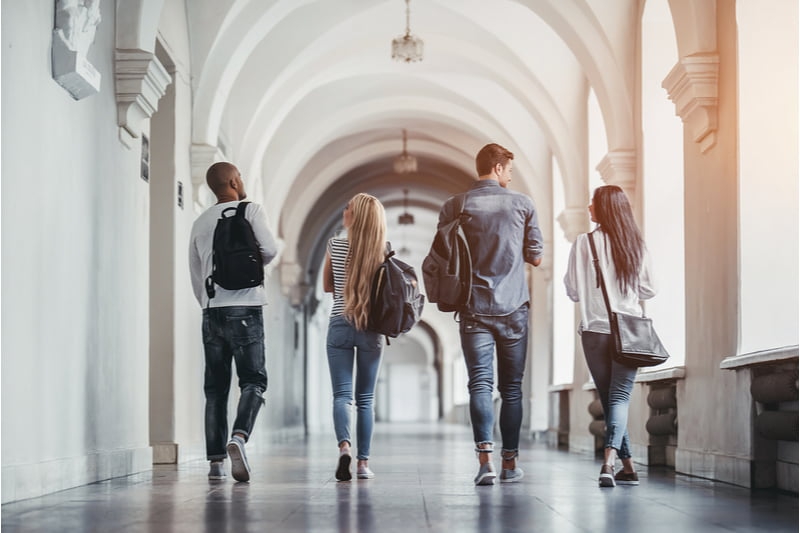 Our Education team is experienced in supporting FE colleges and universities with all types of employment and HR issues.
Doyle Clayton started out over 20 years ago as a boutique employment law firm and we continue to specialise in advising all kinds of employers and employees on all aspects of employment and workplace law. Our Education team are also experts in the education sector – from applying your statutes and policies to advising on exiting academic staff, we know your sector and your priorities and concerns.
Our expert team regularly advises FE colleges and universities on all aspects of employment law including:
Dealing with poor performance, long term sickness absence, disciplinaries, grievances and dismissals
Managing collective and individual redundancies and changing terms and conditions
Advising on exiting staff including without prejudice discussions and preparing settlement agreements
Advising on TUPE transfers and the consultation required
Considering the risk of Employment Tribunal claims from unfair dismissal to discrimination
Supporting clients with Tribunal claims, from responding to the claim right up to the final hearing.

Some recent examples of employment issues where we have supported FE colleges and universities include:
Supporting an FE college with a long-running claim brought by an employee dismissed for redundancy, including advocating at the case management preliminary hearing and ultimately negotiating a favourable settlement
Reviewing and updating various template employment contracts and self-employed contractor contracts for a university, including providing guidance on the off-payroll rules
Advising a college on dismissing an employee who had failed to promptly report a serious safeguarding issue
Providing training to managers at a university on avoiding discrimination claims

Why use Doyle Clayton?
We pride ourselves on our high quality, timely and practical legal advice that is tailored to your institution. But that's not all - we believe that the following sets us apart from other law firms:
We act for both education institutions and individuals in the education sector. Our Education team is unique in advising both education institutions and professors, academics and other senior individuals in the sector. This provides us with a unique insight into each side's perspective and concerns, which many law firm education teams working solely for employers do not have experience of.
High quality service that is recognised in The Legal 500. Our team of specialist education solicitors is ranked in the top tier by The Legal 500. Our Head of Education, Simon Henthorn, is also ranked as a Leading Individual and Liz Timmins (Legal Director) is ranked as a recommended lawyer in the education sector. You will always be advised by an expert - we do not have trainees or paralegals.
We are education law specialists. Our education team supports many different educational institutions with their legal, HR and compliance issues, so we understand the challenges you face.
We understand the education sector and work closely with the AoC and UKCISA and attend and present at their annual conferences. We also regularly deliver training sessions for these associations.
Our Team

The team is lead by Simon Henthorn who is well known for his work in the education sector, and recommended by Chambers Guide to the UK Legal Profession for being "very easy to deal with" and "very knowledgeable". Simon is a governor of St Stephen's School in Twickenham.
To get in touch with Simon Henthorn please email him at shenthorn@doyleclayton.co.uk or call him on +44 (0)20 3696 7172.

Testimonials
Don't just take our word for it! Here are some examples of recent feedback from The Legal 500 and from our clients:
"The education team at Doyle Clayton are true specialists in employment matters in the education sector, and they understand how education law interacts with the employment of academics and teachers. In my opinion, they are the go-to firm for professors, lecturers, and headteachers with employment disputes."
"The (Education) team is excellent. Everyone we have worked with are approachable, friendly and engaging".
"I found the (Education) team very responsive, thorough and very good value for money. I would happily use them again and also would recommend them to others."
"They are a strong team. Enthusiastic, resourceful, personable, and experienced."
"Doyle Clayton's impressive' education practice is singled out for its dual employment and education law expertise, and its ability to offer clients comprehensive advice on safeguarding, pastoral care issues and dismissals. The team is led by Simon Henthorn, who has over 15 years of experience in the sector, and is praised for 'cutting through the 'bluster' and bringing 'common sense to where it is lacking.' The group handles sensitive matters for headteachers, senior staff, and schools. Elizabeth Timmins specialises in providing immigration law advice to schools and colleges."
"Simon Henthorn is an outstanding lawyer, articulate, knowledgeable, courteous and a pleasure to work with."
"Doyle Clayton, and in particular Simon Henthorn, has been an especially good, helpful and straightforward source of advice and support. He has an excellent understanding of both legal issues and the context within which we operate. He is intelligent, proactive and creative in suggesting possible solutions to problems. A really safe pair of hands and a trusted source of both tactical and strategic advice and guidance."
"Simon Henthorn, the Head of the Education team, is unparalleled. He knows the education sector like the back of his hand, he has a good strategic mind for a case and he is excellent with clients. He radiates decency and inspires confidence. I worked with him on a very complex case involving a client with significant health needs, and he went above and beyond for the client.
"Simon Henthorn has forensic attention to detail and exceptional work ethic which gets the best results for his clients. Innovative and courteous, he is a very capable lawyer.''Simon Henthorn is a first-rate practitioner. He is a pleasure to work with and is experienced and dedicated."
"Simon (Henthorn) is a calm, thoughtful and measured professional. He is approachable, amiable and willing to engage whenever we have asked. Simon's work with us on individual cases has impressed us. Simon has had excellent evaluations, and we have found him to be highly effective in summarising situations as well as providing both a pragmatic and clear legal understanding of case law. I am pleased that Simon retains an extremely positive relationship with us, and we very much hope to utilise his skills again in the future. Simon was able to provide expert advice in a clam and supportive way. He facilitated the checking of settlement agreements and provided an outstanding service, which at times had extremely short deadlines for turn around. I have not had reason to consider any weaknesses in either the work of Simon or Doyle Clayton."
"We have been very impressed with the support provided by Liz (Timmins). She is very professional, diligent and thorough and we appreciated the regular updates regarding the status of matters. She is commercially astute and very easy to deal with. We have nothing but praise and recommendation for Liz and would have no hesitation in recommending Doyle Clayton and Liz to our clients."