Employment law and HR support for schools and colleges
---
Education specialists acting for schools, colleges and individuals all over the UK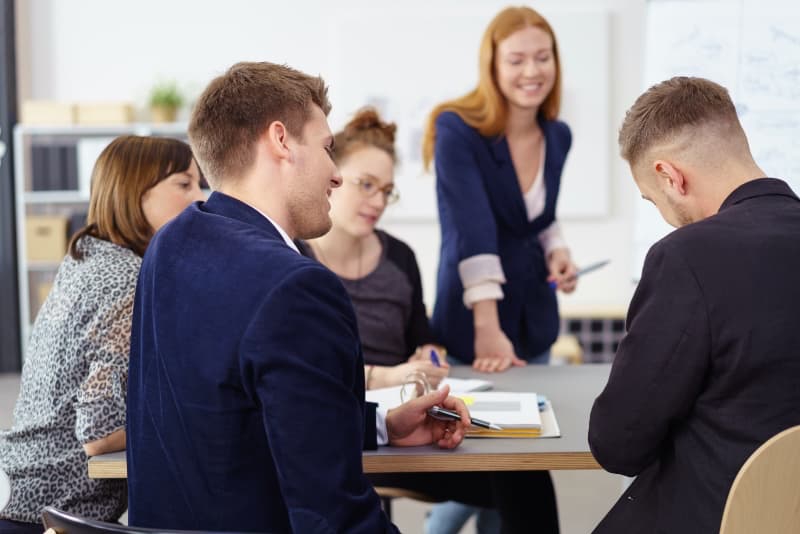 Employment Experts for Schools
For schools and colleges, navigating the complexities of employment law and HR issues can be challenging and can take up valuable time and resources. You may encounter difficulties with a staff member's performance or conduct, receive a grievance, need to make changes to employment terms, or even be considering redundancies. Our Education team can help and support you with all employment and HR concerns you may have, no matter how big or small.
"The education team at Doyle Clayton are true specialists in employment matters in the education sector, and they understand how education law interacts with the employment of academics and teachers. In my opinion, they are the go-to firm for professors, lecturers, and headteachers with employment disputes."
Doyle Clayton started out over 20 years ago as a boutique employment law firm and we continue to specialise in advising all kinds of employers and employees on all aspects of employment and workplace law. Added to this, our education team are also experts in the education sector and are experienced in supporting schools and colleges in these areas - from advising on teacher notice periods to queries about holiday pay, we know your sector and your priorities and concerns.
Issues our Education team regularly advises on include:
Managing staff redundancies and changes to their terms and conditions, including pay cuts. Read more on how we can help you with the redundancy process
Dealing with employee issues such as poor performance, sickness absence, disciplinary issues, grievances and dismissals
Handling off the record discussions with staff and drafting settlement agreements
Answering day-to-day queries on issues like giving notice of termination, flexible working requests and holiday pay issues
Advising on the risk of claims from employees including for unfair dismissal and discrimination
Supporting schools and colleges with any Employment Tribunal claims, from responding to the claim right up to the final hearing
Examples of employment issues we have supported schools with are:
Advising a large HMC school about ending their furloughing arrangements
Advising a Prep school about changing teachers' terms and conditions – including moving to part-time working and salary reductions
Advising a large academy chain on its employment contracts and governance arrangements – including its obligations under the Companies Act and Charity law
Advising an independent school in relation to a redundancy process
Advising an academy about the removal of their underperforming Headteacher
Supporting an independent school on the dismissal of a teacher following safeguarding concerns
Defending a large sixth form college in an employment tribunal claim for sex and race discrimination. Read more on how we can support employers dealing with claims of discrimination

Why use Doyle Clayton?
As well as providing high quality, timely and practical legal advice that is tailored to your school or college, we believe that the following sets us apart from other law firms:
We act for both schools and individuals in the education sector. Our education team is unique in advising both employers and individuals. We act for schools, education representative bodies (both associations and unions) and examination boards as well as senior individuals in the sector. This provides us with a unique insight into the broad and connected issues that organisations in the education sector regularly encounter which many law firm education teams working solely for schools do not have experience of
High quality service that is recognised in The Legal 500. Our team of specialist education solicitors is ranked in the top tier by The Legal 500. Our Head of Education, Simon Henthorn, is also ranked as a Leading Individual and Liz Timmins (Legal Director) is ranked as a recommended lawyer in the education sector
We are education law specialists. Our education team supports many different educational institutions with their legal, HR and compliance issues, so we understand the challenges you face. Our team includes lawyers who are governors, plus those who have worked in-house at colleges and as a Home Office compliance officers. The team also has a specialist SEND capability led by Amara Ahmad
We understand the education sector. We work closely with education associations including IAPS, ISBA, the AoC and UKCISA and attend and present at their annual conferences. We also regularly deliver training sessions for these associations
Trusted adviser for over 60 schools and colleges. We work with over 60 schools across the UK, ranging from independent schools, sixth for colleges, maintained schools and multi-academy trusts. In many cases we are the school's sole and only source of legal advice. Whilst some of our competitors act for many more schools, the size of our client base enables us to provide a dedicated and focused service.
Our Education Specialists
Simon Henthorn leads the education team at Doyle Clayton. He is one of the UK's outstanding Education lawyers. He is listed a Leading Individual for his work advising schools, colleges, universities and other Education sector organisations by the The UK Legal 500 and under his leadership, the firm's Education team has achieved the highest possible ranking (Tier 1) with The Legal 500 saying -
"Doyle Clayton is renowned in this area of education for its breadth of expertise, with practice head and standout practitioner Simon Henthorn being described as 'a class act'".
For two consecutive years, the Education team has been shortlisted by The Legal 500 in its Annual Awards - one of only two UK Education teams to achieve this.
Our Experts
Partner & Head of Education
T: +44 (0)20 3696 7172
Senior Associate
T: +44 (0)20 3696 7178
"Simon Henthorn, the Head of the Education team, is unparalleled. He knows the education sector like the back of his hand, he has a good strategic mind for a case and he is excellent with clients. He radiates decency and inspires confidence. I worked with him on a very complex case involving a client with significant health needs, and he went above and beyond for the client."
Contact Doyle Clayton
Our friendly team are happy to have a no obligation chat with you about your employment issue. To make contact call Doyle Clayton on +44 (0)20 7329 9090. Alternatively, you can make contact by email at info@doyleclayton.co.uk. We are happy to advise you face to face from our many offices in London, Reading, Oxford and the South West of the UK. If it is more convenient for you we can advise you by video or phone call.