Discrimination Solicitors - Help for Individuals
---
Discrimination, bullying, harassment experts ready to fight your corner

Discrimination Claims Solicitors - we can help
Discrimination laws protect a wide range of individuals including employees, job applicants, workers, contractors, partners and LLP members. It's unlawful to discriminate because of a protective characteristic (see list below). Harassment or bullying related to any of these protected characteristics is also against the law.
Our highly experienced discrimination claims solicitors have worked with a wide range of individuals from different backgrounds and business sectors on discrimination claims. Our work with individuals includes claims relating to sex discrimination, pregnancy discrimination, race discrimination, disability discrimination, age discrimination and discrimination on grounds of religion or belief. we have particular expertise in dealing with claims of discrimination on grounds of belief which are often more complex and specialised. Recent cases that have attracted media attention include the Maya Forstater case.
Cases of discrimination can be complex. If you believe that you're suffering discrimination at work, you should obtain expert legal advice from the outset.
Workplace Discrimination and Protected Characteristics
Under, the Equality Act 2010, it's unlawful for you to be discriminated against in the workplace because of a protected characteristic. The nine protected characteristics are as follows:
Age
Disability
Gender reassignment
Marriage and civil partnership
Pregnancy and maternity
Race
Religion or belief
Sex
Sexual orientation
Discrimination Services for Employees and Other Individuals
If you are being unlawfully discriminated against in the workplace this can be upsetting and a challenge to tackle on your own. If you are considering perusing a claim of discrimination, harassment or victimisation our employment team can help you through this stressful situation. Some of our discrimination services for individuals include:
Helping you to make a complaint or raise a grievance (following your employer's policy) including drafting or reviewing documentation
Helping with discrimination claims (direct and indirect discrimination), victimisation claims and claims relating to harassment and sexual harassment
Advice on constructive dismissals because of discrimination. Read more on how we can help with constructive dismissals
Helping with evidence eg preparing witness statements
Negotiating a settlement deal with your employer. Read more on how we can advise you on a settlement agreement
Representing you at an employment tribunal
Contact our discrimination claims solicitors if you need advice on a workplace discrimination matter.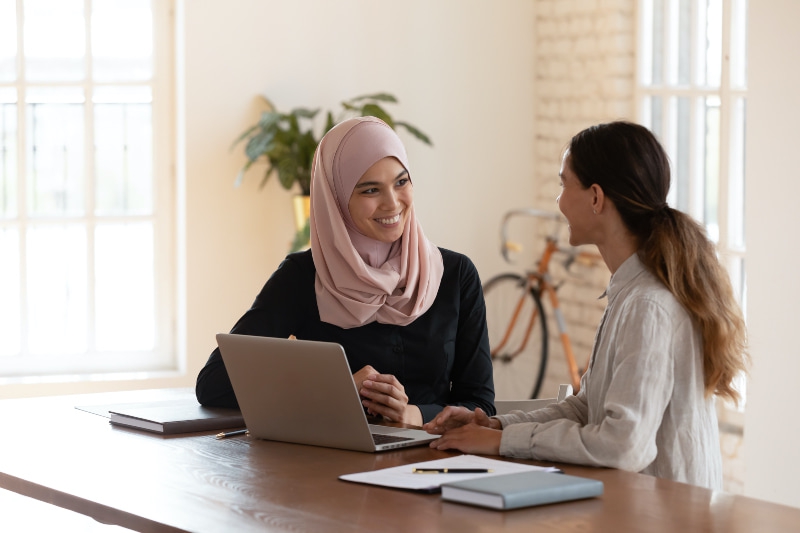 What is Considered Discrimination in the Workplace?
Direct discrimination occurs when somebody is treated less favourably because of a protected characteristic (see list above), for example if you are not offered a job because of your sexual orientation.
Indirect discrimination occurs where a practice, policy or rule is applied to everyone in the same way, but it has a worse effect on a group of people with a particular protected characteristic than on others. The Equality Act 2010 talks about it putting them at a particular disadvantage. An individual member of the group who is disadvantaged by the practice, policy or rule can bring a claim. For example, if an employer requires all employees to work until 6pm every evening, this may disadvantage women who tend to have more childcare responsibilities than men. A woman with young children who is required to work until 6pm could bring a claim, arguing that she has suffered indirect sex discrimination. To defend the claim, the employer would need to be able to show that it has a real business need justifying the particular practice, policy or rule and that it could not be achieved in a less discriminatory way. This is known in legal terms as the employer having to show objective justification.
Harassment occurs where, for example, a person is made to feel upset, humiliated or intimidated by the behaviour of one or more of their colleagues and the behaviour is related to a protected characteristic. Examples include spreading rumours about someone's sexuality, excluding someone from group activities because they are disabled and engaging in racist or sexist banter.
Sexual Harassment occurs where, for example, a person is made to feel intimidated, humiliated, upset or offended due to a colleague engaging in conduct of a sexual nature, for example touching them inappropriately, making sexual advances or asking them questions about their sex life.
Victimisation occurs where a person suffers detrimental treatment because they have made a discrimination or harassment complaint or brought a discrimination or harassment claim or because they have helped someone else to do so.
Discrimination arising from disability occurs where somebody is treated unfavourably because of something connected to their disability. For example, a disabled employee who has had a lot of time off work for disability-related reasons is dismissed because of their unacceptable level of sickness absence. An employer can defend the claim if it can show that the unfavourable treatment is objectively justified by a real business need and this could not be achieved in a less discriminatory way. An employer will not be liable if it can show that it did not know and could not reasonably have been expected to know that the employee had the disability.
Failure to make reasonable adjustments (for a disabled person) occurs where a practice, policy or rule applied by the employer places a disabled person at a substantial disadvantage compared to someone who is not disabled and the employer fails to take reasonable steps to avoid the disadvantage.
'Doyle Clayton are a fantastic firm. Their knowledge is extremely impressive. Within reason they are always available for advice and no matter is too small for them to deal with.' The Legal 500
Equal Pay Claims
Men and women employed by the same employer who are doing equal work are entitled to be paid the same as each. Equal work means they are doing like work, work rated as equivalent or work of equal value. If a woman is not being paid the same as a man doing equal work, she can bring an equal pay claim in the Employment Tribunal. Similarly a man can bring an equal pay claim if they are not being paid the same as a woman doing equal work. In order to defend the claim, the employer will have to show that there is a good reason for the difference in pay and that reason is not discriminatory. This is known as the material factor defence.
Discrimination Claims Solicitors - Recent Work
Our team have dealt successfully with a wide range of discrimination, harassment, and diversity matters including:
Acting on behalf of Maya Forstater, establishing gender critical beliefs as a protected philosophical belief under the Equality Act 2010. Read more on the Maya Forstater case.
Acting for Eton teacher Will Knowland who was sacked over a gender lecture (the verdict was hailed as a victory for free speech in schools). Read more on the Will Knowland case.
Advising four senior employees named as respondents in relation to the defence of Employment Tribunal claims brought against them personally for discrimination and whistleblowing by a colleague. The matter was settled at a mediation on terms that ensured that our clients' reputations were protected
Advising an Executive Headteacher on his unfair dismissal and disability claim brought against an academy trust. The case has been reported by the BBC.
Representing a senior executive in the insurance business in an equal pay and sex discrimination claim, achieving settlement of the Tribunal case for a sum in excess of £700k
Advising various Oxford University professors on their age discrimination claims in connection with their compulsory retirement by the University
Advising a senior consultant at a professional services firm who was suffering menopausal symptoms and put on a performance improvement plan. She subsequently left the firm after agreeing a five-figure compensation sum.
Discrimination Claim Time Limits
There are time limits on bringing a discrimination claim in the Employment Tribunal.
A discrimination claim to an Employment Tribunal must usually be made within 3 months less 1 day of the act you are complaining about. For example, if you believe you were not promoted because you are a woman, you will have 3 months less 1 day from the date of the promotion decision to bring your claim. If it's an equal pay claim, the time limit is 6 months.
Before filing a claim you will need to start the mandatory Acas Early Conciliation process. (Visit Acas for more information) You have to complete a form to tell Acas that you intend to make a claim. Acas can help you to communicate with your employer to reach an agreement so you don't have to go to the Employment Tribunal. This process can stop the clock running for a short period and give you a little longer to file your claim. If Early Conciliation doesn't lead to an agreement you'll have at least one month after it ends to make your Tribunal claim.
You should take legal advice on the processes and the time limits. Time limits are strict and will only be extended in certain circumstances. Time limits will not be extended in equal pay claims.
Our Discrimination Claims Solicitors
Our team of specialists can help you with any discrimination claim. They are experts at fighting your cause and at negotiating a satisfactory settlement. Contact one of our discrimination experts today and they will be happy to help you.
Our Experts
Partner
T: +44 (0) 207 778 7241
Senior Partner & Head of City Office
T: +44 (0)20 7778 7221
Partner
T: +44 (0)20 3696 7173
'We have a long established relationship with Doyle Clayton. We find them very responsive to our needs and understand our business intrinsically and we see them as a key partner for us. They are very commercial and have a very good breadth of knowledge and experience.' (The Legal 500)
Why use Doyle Clayton?
Reputation – We have an outstanding reputation for delivering high quality advice to our clients who continue to use us time and time again. We are highly rated in The Legal 500 and Chambers and Partnersand our clients have written excellent reviews about us and continue to recommend us.
Convenience – We have a large team of discrimination solicitors working from our offices throughout London, Reading, Oxford and the South West. If it is more convenient for you, we can meet you at your business premises or conduct our legal service by video call. Wherever you are in the UK, we can assist you.
Contact Doyle Clayton
If you require any assistance with a discrimination issue that has arisen in the workplace contact our friendly team on +44 (0)20 7329 9090 or email us on info@doyleclayton.co.uk. If you leave a message we will return your call.