Peter De Maria
Senior Partner | London (City)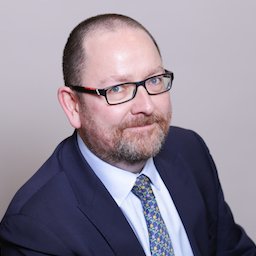 Peter is the firm's Senior Partner. He specialises in all areas of employment law acting for both employers and employees. He has particular expertise in advising on the enforcement of restrictive covenants, team moves and bonus claims in the High Court.
Peter has over 20 years of experience in advising businesses and individuals on all aspects of employment and partnership law. He is regularly involved in reputationally sensitive and high value employment law matters in the City.
"He is very talented and straight to the point. He is a great strategist" - Chambers Insight 2022
Specialist areas
He is particularly noted as an adviser to senior executives in relation to new service agreements, contentious departures and settlement agreements. He is ranked in Band 1 by Chambers & Partners for employment law advice for Senior Executives and as a Leading Individual in The Legal 500 for Senior Executives.
His client base includes senior executives in financial services companies, law firms, banks, private equity firms and hedge funds. He has acted as an adviser to clients in management roles in a variety of sectors including energy, technology, retail, publishing and management consultancy.
'Peter De Maria is undoubtedly a leading individual in the area. He's a canny and experienced litigator who combines a steely and focused approach with sound commercial judgment, good humour and humility. Exceptional'. – The Legal 500
He successfully represents clients in claims involving alleged team moves, breach of fiduciary duties and misuse of confidential information. Over the years he has been involved in numerous reported cases including: Guy Carpenter & Co Ltd & Ors v Howden Insurance Brokers Ltd & Ors, Alesco Risk Management Services v Bishopsgate Insurance Brokers and others, TFS Derivatives Ltd v Morgan, Imam-Sadeque v Bluebay Asset Management and Patsystems v Neilly.
"The reality is that for the multiparty employment competition cases, he is just one of those go-to people. Based on reputation, the odds are that he and the firm will represent the defendant. He is extremely incisive, and he cuts straight to the heart of the case. He will phone you up and a week later you will realise that that was a key issue in the case, and you will see that he has nailed it. He is very experienced" - Chambers Insight 2022
Peter also supports companies and LLPs, both UK based and multinationals, on all aspects of their relationships with their employees and members/partners. This covers advice on strategic issues as well as support in negotiating settlements with departing employees, responding to allegations of harassment and bullying, and redundancy exercises. He advises on retirement/removal from partnerships and LLPs, investigations and disciplinary proceedings (in regulated environments), discrimination and whistleblowing claims.
His work in the area of discrimination cases includes acting for senior female executives and partners who have faced discrimination in the form of demotions or dismissals both before and after maternity leave.
What people say about Peter
Peter is highly recommended by both legal directories. The Legal 500 have described him as "the go to adviser for senior executive departures and litigation" and Chambers & Partners have stated that he is, "an excellent lawyer who is very calm, methodical and thoughtful".
Peter De Maria is described as "an excellent lawyer who is very calm, methodical and thoughtful" by a source, who adds: "He's very knowledgeable in his field and very pragmatic in his approach."
Chambers & Partners Guide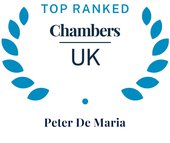 "Peter De Maria advises senior executives and directors on a wide range of employment and partnership issues. He is especially recognised for his work on restrictive covenant enforcement and has represented clients in complex High Court litigation."
Chambers & Partners Guide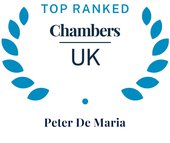 Peter De Maria regularly works on team moves and related restrictive covenant issues. Sources note him as being "strong on High Court litigation" and "good with clients because he is sensible and pragmatic."
Chambers & Partners Guide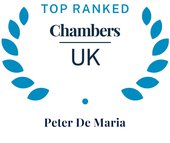 "A wily litigator - who is 'tenacious, brave and calm"
Legal 500 Guide
"Peter is a very experienced adviser to senior executives and he understands how best to give them careful, thoughtful and practical advice as well as looking out for their best interests." "He is extremely incisive. He cuts straight to the heart of the case and he nails it."
Chambers (2022)
Recent Work
Peter's recent work for employers includes:
Advising a US based business on responding to the removal of confidential information by a team of employees who resigned to go to a competitor
Advising a start up on the removal of a founder on amicable terms
Advising a financial services client on an investigation into allegations of sexual harassment committed by a senior employee
Successfully defending employers in the Employment Tribunal in relation to sensitive claims brought for discrimination and whistleblowing
His recent experience for individuals includes:
Guy Carpenter & Co Ltd & Ors v Howden Insurance Brokers Ltd & Ors (2021 QB) - Acting for Bradley Maltese in defending a multimillion pound High Court conspiracy claim following his departure from Guy Carpenter - Telegraph 9 May 2021: Insurance giants in High Court battle over executive poaching
Acting for one of the named defendants in a claim for breach of contract in the High Court arising out of an alleged team move in the financial services market with parallel litigation in Dubai and London
Jefferies v Cantor Fitzgerald & Ors (2020-21 QB) acting for three named individual defendants following their departure from Jefferies in a dispute in which the Court looked at whether FINRA membership amounted to an arbitration agreement for the purposes of section 9 of the Arbitration Act 1996
Advising a senior executive on his departure following a board room dispute with the majority shareholder
Advising an insurance broker in defending a High Court claim for damages arising out an alleged team move. The claim was successfully defended and the claimant was ordered to pay our client's legal costs
Advising four senior employees named as respondents in relation to the defence of Employment Tribunal claims brought against them personally for discrimination and whistleblowing by a colleague. The matter was settled at a mediation on terms that ensured that our clients' reputations were protected
Advising an employee at a fund manager on raising a grievance following a campaign of bullying and harassment by her manager which included the threat of a performance improvement plan; and Advising a partner of a law firm in an LCIA arbitration brought by his former firm against him and others alleging breach of fiduciary duties and breach of the LLP agreement