Tina Wisener
Partner & Head of Reading Office | Reading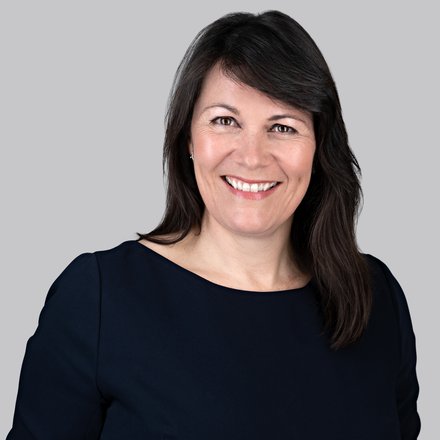 Tina is the head of the Reading office. She predominantly advises corporates on HR/employment law issues and regularly provides bespoke training sessions for clients on a wide range of legal issues affecting the workplace.
Tina is an experienced employment lawyer and tribunal litigator with particular expertise in whistleblowing and complex discrimination cases. She is ranked by The Legal 500 and Chambers Guide to the UK Legal Profession as one of the UK's outstanding employment law specialist advising corporates as well as senior executives.
Prior to qualifying as a solicitor, Tina served as an Army Officer specialising in human resources and change management. This provides insight into both the strategic and operational issues that HR teams face and a practical understanding of the day to day pressures and challenges her clients regularly deal with.
What people say about Tina
"She brings so much more to the table because she has a very big depth of experience. She became a lawyer, having been in the military in HR at a very senior level. So she has the pragmatism of somebody who's actually had to do the job. She brings the experience, she gets the situation straight away".
Client
"She is an amazing lawyer: knowledgeable, commercial and always available. You can roll her out to chairman level with no concerns".
Client
"Simply put, she is excellent. Tina is practical, arrives at the right decision and provides honest feedback. Every time I have the business interact with her on a call, they always come away saying, 'wow, is she good".
Client
"Tina is a phenomenal lawyer with an abundance of commerciality, I feel like she and her team are a natural extension of my team. She is an excellent negotiator as well as excellent in educating and training staff, managers and HR professionals alike. I have the utmost confidence that she has the credibility and can provide the confidence required to know we are in safe hands".
Client
What the directories say about Tina
Tina is highly recommended by both legal directories. The Legal 500 have described her as a "stand out partner" and Chambers & Partners have said she is "pragmatic and always commercial".
"Tina Wisener is exceptional in her range of knowledge and experience. She responds very quickly and always offers practical and sound advice and explains everything in plain English!"
The Legal 500
Impressed clients say: "She's amazing, she's so commercial and so responsive," and add that "she's fantastic, a great technical lawyer".

Chambers & Partners Guide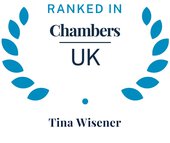 "I would pick her out. She has had the willingness to pick up litigation work that others won't do, like criminal work that comes out of employment work. Others wouldn't do that, and others wouldn't have that breadth and expertise".
Chambers & Partners Guide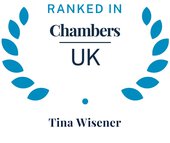 "Tina Wisener is adept at advising on matters including TUPE transfers, outsourcing, senior exits and Financial Conduct Authority matters pertaining to employment law. She is also an able advocate, with experience in handling discrimination and whistle-blowing claims".
Chambers & Partners Guide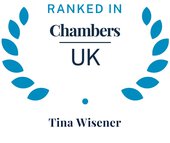 Recent work includes
Advising on restructuring and reorganisation issues, including workplace closures
Outsourcing and TUPE projects
Board level reorganisations and senior exits
Employment status
Modern Slavery Act obligations
In addition, Tina regularly conducts independent workplace investigations and reviews for employers into complex, sensitive and high profile employment issues. Recent investigations have involved allegations of bullying, sexual harassment and other forms of harassment at senior level.
Tina's clients come from a broad range of sectors and she has particular expertise in advising financial services and IT businesses. She is also a popular conference speaker and the regular guest speaker at the Employment Lawyers Association (ELA) annual discrimination conference with recent feedback including -
"This was a good session too despite Tina only having 50 minutes. She did well to get through everything and dealt enthusiastically with questions. Practical, engaging, Very useful. Very relevant to the topic. By far the best content."
"Very succinct to the point and practically useful. Thanks!"
"Tina gave a great session. I particularly liked the fact that she gave lots of personal examples as well as very helpful and thorough notes."
"Good anecdotal examples. Great materials. Very clear. To the point."
"In my view – excellent. BRAVO ELA!!!"
And from the conference organiser -
"I have received the feedback from the ELA Discrimination course in March. Congratulations – this is really superb feedback: great scores and some lovely comments."
Articles published include
Tina enjoys contributing to publications such as The Times, HR Magazine, The Telegraph and many other HR and employment publications. Read some of her articles here.
Webinars and podcasts include
Menopause in the workplace "Sex, Myths and the Menopause" - Davina McCall's Channel 4 documentary, has led to a marked increase in enquiries from clients about what they can do practically to support employees going through the menopause. Partner, Tina Wisener and Senior Associate, Rose Smith look at this in detail and answer questions that employers may ask
Covid-19 vaccinations: The Top questions for employers Partner, Tina Wisener and Senior Associate, Rose Smith answer your top employment questions about the Covid vaccination
Experience and qualifications
Qualified in September 2001
Specialist in Employment Law since 2001
Professional memberships
Employment Lawyers Association
Areas of expertise