Notary Public London
---
Notarial services for individuals and businesses London & UK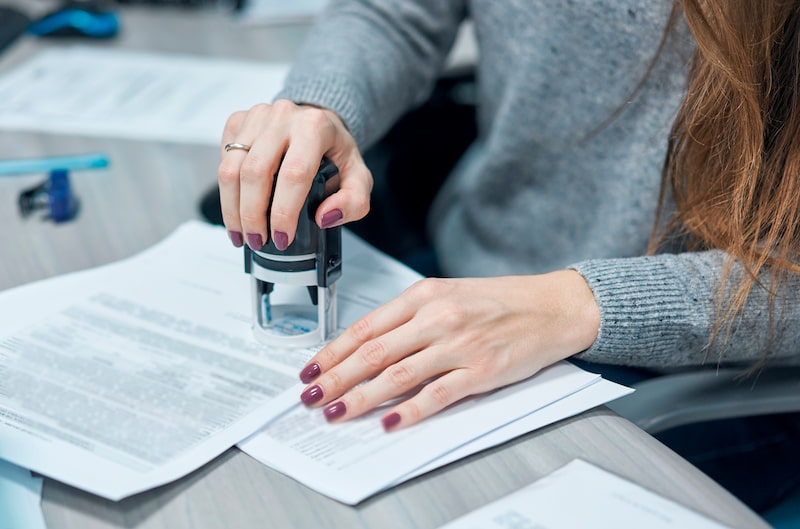 Notary Public Services London
A Notary Public is a qualified lawyer - a member of the third and oldest branch of the legal profession in England and Wales. In England and Wales, notaries are appointed and regulated through the Faculty Office of the Archbishop of Canterbury.

In addition to working with businesses, our team have experience of providing a very wide range of notarial services for individuals. Perhaps you need your academic documents verified to work abroad? You may require documents to be able to travel abroad with a child? We offer a variety of notarial services to suit your needs. Contact us today and we will be happy to help you.
Contact our Notary Public
What is a notary public?
A UK notary public is typically a solicitor or barrister that has taken an additional qualification. They take this through the Faculty Office of of the Archbishop of Canterbury and can then join the Roll of Notaries and become a notary public.
Unlike solicitors (who provide a wide range of advisory services to their clients) notaries focus on a single specialised area. This includes the certification, preparation and legalisation of documents in order for them to be used in the UK or overseas. Documents prepared by a notary public may be of a personal nature (passports, wills, degree or diploma-related documentation) or of a corporate nature (certificates of incorporation, Board Resolutions or Minutes etc.).

Do I need a notary public or solicitor?
It may not always be clear whether a document needs to be signed before a notary public or a solicitor.
Usually you will have been sent a letter or email of instruction advising you who you need to see regarding your document. This will be sent to you by the person or business that has asked for your document to be authenticated.
If you haven't, this should be checked and confirmed either by you or a notary public. As a general rule of thumb, if a document is to be used overseas and you have been asked to have it "certified", "attested", "verified" or "notarised" it almost certainly needs to be dealt with by a notary public. If your document contains the seal and signature of a notary, this indicates to the authorities in the destination country that the relevant checks have been carried out.
A notary public's duty of care lies with the document they are notarising (using a notary seal) and ensuring that it is authentic and legal. A solicitor's primary duty of care is to their client and always acting in the client's best interests.
When might you need notarial services?
We offer a wide range of notarial services to both businesses and individuals all over the London area and beyond. We have worked with individuals as well as with a wide range of companies authenticating and certifying a variety of documents to be used overseas.
Services for businesses
We can help with all company documents that need to be notarised officially, including the following:
Affidavits/Oaths
Statutory Declarations
Copy Passports
Copy Documents
Written Statements
Application Forms
Company documents
Certificates of Incorporation
Memorandum and Articles of Association
Certificates of Good standing
Powers of Attorney
Trademark Assignments
Bills of Sale
Apostille and legalisation
Maritime Bills of Sale
Ship Mortgages
Services for individuals
We can draft, certify and notarise a range of official personal documents including the following:
Certifying a passport
Foreign Adoption Applications
Property documents for use abroad
Certifying exam certificates
Consent for a child to travel
Change of name deeds
Setting up a power of attorney
Change of name
Wills
Notary Public London - FAQs

The process of notarisation consists of three parts – vetting, certifying and record-keeping. Notarisations are also sometimes referred to as "notarial acts."
Notarisation is the official fraud-deterrent process that assures a document is authentic, can be trusted and that its signature is genuine. It also confirms that its signer acted without duress or intimidation and intended that the document's terms should be in full force and effect.
Notarisation is required to enable a specific document to be accepted abroad by courts, registries or other notaries. They will only recognise a document once it has been signed by a notary public.
The form of notarial certification will vary according to the document and the country in which it is to be used. Generally, the notary public is certifying the genuineness of the signature on the document, the identity and capacity of the person signing and, if applicable, their authority to represent the company or entity they are signing on behalf of. In addition, it may also be necessary for the notary public to certify that the document has been correctly executed in accordance with English law. This requires an understanding of the formalities of executing deeds and documents. A notary public can also certify true copies of original documents and the truth and accuracy of translations. In all cases, a notarised document bears the notary's signature and official seal of office.
What is legalisation or Apostille?
In many cases, your documents may not only require to be notarised but also legalised. Legalisation checks that a notary's signature is legal. This is carried out by the Foreign and Commonwealth Office and/or by the embassy of the country where the documents will be used. Once this is checked a certificate is attached called an "Apostille".
If your documents need to be legalised or apostilled we will be able to liaise with the Foreign and Commonwealth Office or the appropriate embassy or consulate on your behalf.
We appreciate that our clients often require this work to be done in a hurry or do not have the time to deal with the legalisation process. Therefore, we can handle all of these steps for you.
What identification does a notary public require?
The person who would like their signature to be certified must prove identity by providing a driving licence with a photo card or a valid passport. They are required to show proof of residence which can be HMRC statements or a bank statement. These must be up-to-date, original documents. If a notary is acting for a corporate client, the notary usually carries out their own enquiries. They may look at documents such as the Certificate of Incorporation and latest company reports.
What about documents in another language?
If the document to be notarised is in a foreign language, the document may have to be translated. This can be carried out by an official legal translator. They will then have to sign a statutory declaration certifying that it is a true translation.
We offer a translation service using qualified translators for the translation of any existing documents you have. This makes them acceptable for any overseas jurisdictions where they may be required. Our experienced team can also notarise the accuracy of documents translated by qualified translators.
For the protection of our clients, we maintain a professional indemnity insurance up to the value of £3,000,000.00 in respect of the notarial services we provide. This is substantially more than the legal requirement and reflects our commitment to our clients and our confidence in the quality of our services.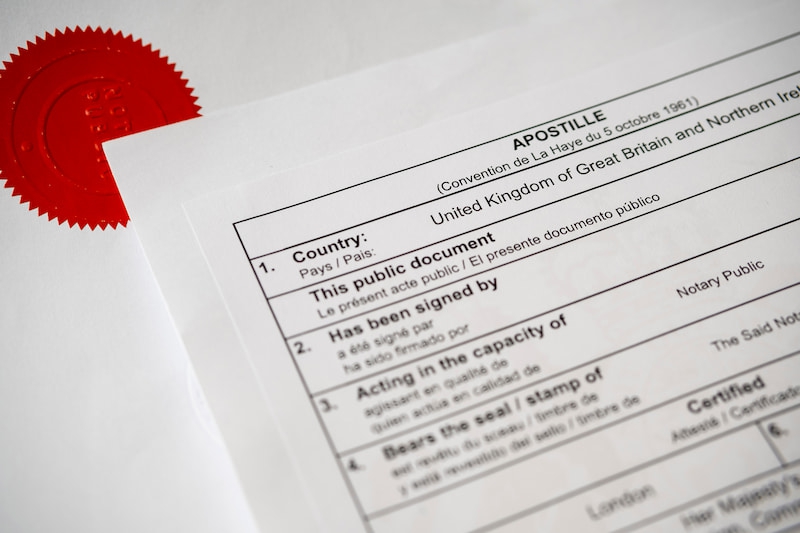 Notary public - work examples
Our notary public team have been notarising documents as well as providing legalisation and translation services London and surrounding areas for many years. Some of our work includes:
Meeting with company directors at their offices in London to certify documents. These included powers of attorney to authorise employees at a subsidiary company in France to act on behalf of the company
Attending clients at their homes or offices for their convenience and/or in order to turn documents around in minimum time. This has included being contacted by a client and attending their offices and notarising their documents on the same day and, where required, on the same morning or afternoon
Notarising powers of attorney documents signed by individual clients in respect of purchases and sales of properties overseas
Notarising consent to travel documents signed by one parent allowing the other to travel abroad with their children
Certifying ID documents such as passports and driving licences for various purposes, including immigration applications to live and work abroad
Certifying academic certificates for individuals who would like to work abroad and are required to have their academic documents verified
Obtaining the translation of birth and marriage certificates from English to Mandarin for a client to be used in China as part of an application to go to work in China. Notarising the translated documents and obtaining legalisation at the Chinese Embassy
"We needed power of attorney for my cousin in Italy. Sukhpal the notary was super-efficient and understanding of certain nuances that were needed in the process. His team gave me full confidence and looked after the whole process, even sorting out the courier to get documents sent 'pronto'." - Client
Notarisation - how much does it cost?

We tailor our services to meet your specific needs. There is no "one size fits all". When you contact us, we go through your requirements and can give you a fixed-fee quote. We may ask the following questions about your documents:
Do you need us to draw up any documents for you?
Which country is the document for?
Do you need witnesses?
How many copies of the document do you require?
Do you need translation services?
What language is the document being presented in?
We can advise you on legalisation matters if needs be
We can book an appointment for you and let you know what documents to bring with you. Alternatively, we can visit your business premises or home if required. We offer a friendly and competitively priced fixed-fee service to all our clients. It isn't always necessary to meet your notary and, if we can, we'll notarise your documents 'remotely'.
Our notary public team - why choose us?
Sukhpal Matharoo heads up our notary public team in London. He is an experienced notary public who has worked in the industry with great success for many years. There are many reasons why you should choose us:
We are used to working to tight deadlines and turning documents around swiftly
Our team are happy to travel to your home or workplace to carry out notarial work. We can also meet at one of our offices (contact us and we will let you know our nearest one). As well as having offices in London (Mayfair, City, Canary Wharf and Heathrow) we also have offices in Reading, Bracknell, Marlow, and in Oxford.
Our comprehensive service includes obtaining legalisation of documents, as well as arranging for them to be translated and couriered anywhere in the world if necessary
Sukhpal is fluent in Hindi and Punjabi as well, if you need
If you have regular documents needing notarial services, we can streamline the process to make it easier each time you need to use us.
Contact Doyle Clayton today

If you are looking for notarial services in London we can help. We have offices in Crown Court, Mayfair and Canary Wharf where you can meet one of our experienced team. We also have offices in Reading Marlow and Oxford to serve these and surrounding areas.
We can also meet you at your home or workplace if this is more convenient for you. Additionally, we can offer you advice by video/zoom. To make contact call us on +44 (0)20 3696 7171 or email us at smatharoo@doyleclayton.co.uk. We will respond quickly to all enquiries. A member of our notarial team can often advise you on the same day you contact us.