The Legal 500 2023: Excellent Doyle Clayton Performance
---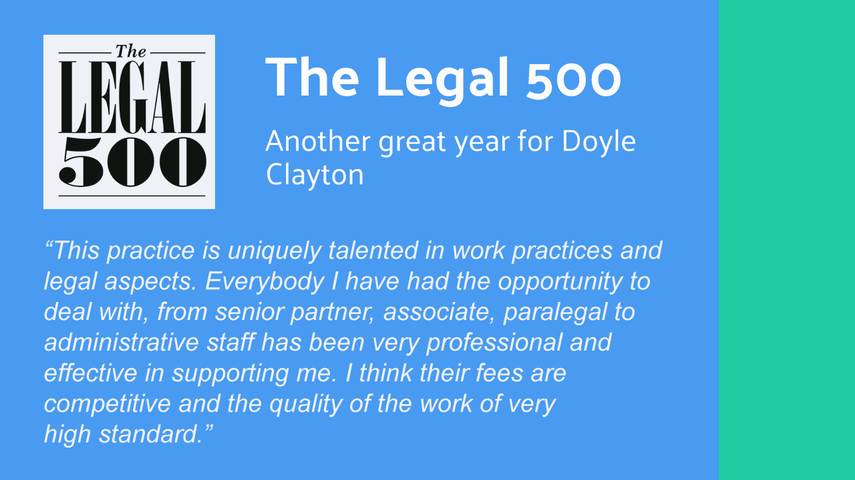 Excellent Doyle Clayton Performance in The Legal 500
The latest edition of The Legal 500 has launched and it's been another great year for Doyle Clayton.

Education
We held our place in Tier 1 for our education work with individuals led by our excellent Partner and education lawyer Simon Henthorn. Well done to everyone in the education team as it's definitely a team effort! Amara Ahmad (education lawyer) is also once again named a 'rising star'! We have also been recognised for our work with schools, with Simon Henthorn recognised as a 'leading individual'.
I worked with Simon Henthorn. He was particularly easy to talk to, he was knowledgeable and answered all questions clearly. He was readily available to address any issues or concerns so I wasn't worrying about anything during the time he represented me. He dealt with my situation compassionately and professionally and I would recommend him to anyone else needing legal advice
Amara Ahmad – a pleasure to work with; a strong instinct for strategy and pragmatism paired with infinite patience and a wonderful instinct for client care
Employment – (Thames Valley)
We were ranked in the top Tier 1 again this year with Tina Wisener and James Anderson being named as 'leading individuals'. A number of lawyers in the Reading office were also named as 'key lawyers' - Piers Leigh-Pollitt, Adam Murdoch, Kate Kapp, Mike Hibberd, Karen Holden and Russell Dann. Well done to all the team in Reading - a well-deserved place.
I have worked with James Anderson now since my first encounter with Doyle Clayton. He takes the time to get to know me, remembers all my stories and therefore we have built a strong relationship. He offers me great support, understands my weakness and although helps with my cases, also ensures I get some learning as well. I personally can't recommend him high enough
Tina Wisener is exceptional in her range of knowledge and experience. She responds very quickly and always offers practical and sound advice and explains everything in plain English!
Employment (London) - Employers
The Legal 500 recognises us as a highly regarded specialist employer practice, noted for its 'breadth of practice across the full gamut of HR advisory, transactional support and High Court litigation'. We are also distinguished for our 'capabilities in internal investigations, business restructuring, board-level disputes and experience working with start-ups'.
Peter De Maria's 'legal knowledge and feel for the strategic intricacies of this area are second to none'. He is assisted by Dan Begbie-Clench, Helen Brooks and 'outstanding junior', legal director and 'rising star' Katie Mahoney, who are all named as key lawyers.
Employment (London) - Senior Executives
We are recommended as 'employment focused and aware of all aspects from both employer and employee side'. Well done to all the team. Peter De Maria is recognised as a 'leading individual' and Katie Mahoney as a 'rising star'. Peter Daly has been named a 'next generation partner'.
Peter De Maria is undoubtedly a leading light in business protection as well as being the firm's senior partner. He is focused, commercial, doesn't get flustered and is at the top of his game. Katie Mahoney is a joy to work with. Her grasp of the detail of a case is second to none. She and Peter make a formidable team.
Employment (Employees/Unions)
The firm as been recognised for work carried out in this area and Peter Daly has been recognised as a 'next generation partner'.
Immigration
The immigration team is led by our Partner and immigration lawyer Anita de Atouguia and is recognised for both business and personal immigration (human rights, appeals and overstays). Malini Skandachanmugarasan has been recognised as a 'next generation partner' and Anna Blackden as a 'key lawyer'. Well done to everyone in the team!
Anita de Atouguia is a wonderful person to work with. She is extremely knowledgeable of our firm and particular circumstances and always happy to help and guide. She also has deadlines diarised and we can rely on Anita to ensure we stay compliant in all things immigration.
We are thankful to our wonderful clients for their kind testimonials and continued confidence in us. Thanks also to our wonderful team who are doing all the hard work – well done!
Read more about us in The Legal 500
The articles published on this website, current at the date of publication, are for reference purposes only. They do not constitute legal advice and should not be relied upon as such. Specific legal advice about your own circumstances should always be sought separately before taking any action.