Press Release | The Legal 500
---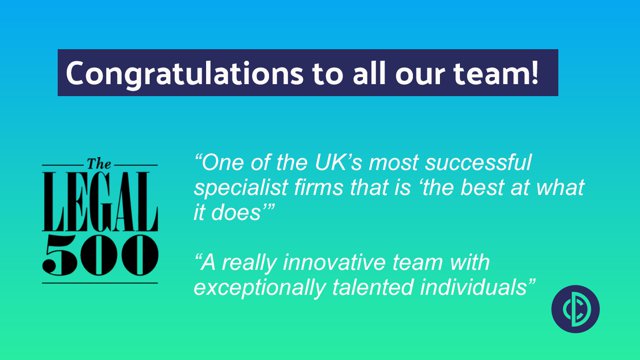 Excellent Doyle Clayton Performance in The Legal 500

The latest edition of The Legal 500 which reviews law firm services and the lawyer providing them, has launched and it's been a good year for Doyle Clayton. Outstanding performances have been achieved by both teams and individual lawyers.
For our employment work in London advising Senior Executives we are ranked best in class. This rating was also maintained for our Thames Valley Employment work (Employers & Senior Executives) and we are now ranked for our Employment work for Unions and Employees out of London. Similarly, our best in class rating for Education Sector work for Individuals (parents, students, professors and teachers) has been retained and we continue to be highly ranked for advising Schools and Colleges. Other teams rating highly include Business Immigration (both for work in London and the South East) and we are now ranked for our work advising on Immigration related Human Rights, Appeals and Overstay.
Alongside Tina Wisener (Employment) and Simon Henthorn (Education), Peter de Maria (Senior Executive) and James Anderson (Employment) are now ranked as Leading Individuals. Peter Daly who joined the firm recently and specialises in crowdfunding employment litigation is ranked as a Next Generation Partner. Malini Skandachanmugarasan (Immigration), Amara Ahmad (SEND) and Katie Mahoney (Employment) are Rising Stars.
Other Doyle Clayton members recommended by The Legal 500 include:
Partners - Helen Brooks (Employment), Darren Clayton (Employment), Dan Begbie-Clench (Employment), and Anita de Atouguia (Immigration).
Lawyers - Naomi Jameson (Employment), Elisabeth Kynaston (Immigration), James Morrison (Employment), Adam Murdoch (Employment), Liz Timmins (Education) and Zahira Patel (Immigration).
Other lawyers receiving particular praise include Kate Kapp (Employment) with client feedback to the directory including "Our contact Kate Kapp has always been fantastic. The biggest benefit is that she is solution focused and has allowed us to handle sensitive HR issues in a fair manner that has allowed our business to move forward and not get stuck in never-ending HR issues."
Peter Doyle CEO said - "For The Legal 500 to say that we are one of the UK's most successful specialist firms - "the best at what it does" and that we have "a really innovative team with exceptionally talented individuals" is very pleasing. And to to see so many of our teams and lawyers rated so highly, along with the client feedback published on The Legal 500 website this will give prospective clients reassurance that if they chose to use us they will be advised and helped by some of the UK's very best and most experienced lawyers."
For The Legal 500 review of Doyle Clayton's London based services please click here, and for its Thames Valley/Reading services here.
The articles published on this website, current at the date of publication, are for reference purposes only. They do not constitute legal advice and should not be relied upon as such. Specific legal advice about your own circumstances should always be sought separately before taking any action.