New Graduate Visa Route Launched on 1 July 2021
---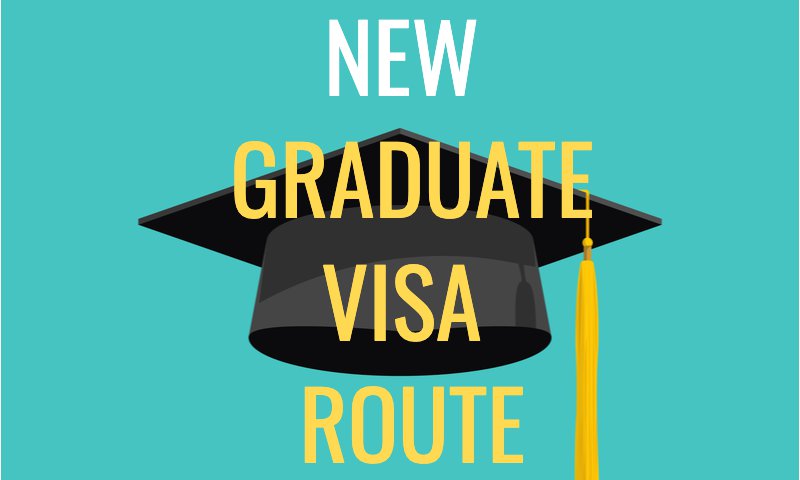 New Graduate Visa Route - Key questions answered
The Government's long-awaited Graduate Visa route finally launched on 1 July 2021. The revival of the post study work visa (which ended in 2012) is a welcome boost to both the UK's international student sector and to UK employers grappling with post Brexit recruitment.
Available only to international students in the UK, successful Graduate Visa applicants will be able to remain in the UK to work full time in any job role - or look for work - for up to two years (or three years for PhD students). It is hoped that the new Graduate Visa will help the UK position itself as a first-choice study destination in a competitive –and highly lucrative - international student market.
The Graduate Visa route is an attractive hiring option for UK employers as it does not require sponsorship and there are no restrictions on salary or skill level.
In a post Brexit UK, this new visa route is a gratifying respite from the higher visa costs associated with hiring graduates under the new Skilled Worker visa route (formerly Tier 2 General).
Who can apply for a graduate visa?
The key eligibility requirements for a Graduate Visa application are as follows:
Applicant must hold current Tier 4 General or Student visa permission as at the date of their Graduate Route visa application
Applicant can only apply from within the UK and the application must be made before the expiry date of their Tier 4/Student visa permission. It is not possible to switch to the Graduate visa from any other type of immigration permission, although an individual can apply if they have been granted a period of exceptional assurance
Applicant must hold a degree (undergraduate, Masters or a PhD) or other relevant qualification (including Legal Practice Course, PGCE, PGDE, Foundation Programme in Medicine or Dentistry)
Applicant must have completed the course during their current period of Tier 4 or Student permission when they apply for a Graduate Visa. This must be the same course for which their Confirmation of Acceptance for Studies (CAS) was assigned, subject to limited exceptions
Applicant's qualification must be awarded by an approved UK Higher Education Provider, listed on the Home Office's approved Student Sponsor Register as a 'Student Sponsor - Track Record'
Study must have taken place in the UK. For courses less than 12 months long, the applicant must have been in the UK studying the whole course. For a course of 12 months or more, the applicant must have been studying in the UK for at least 12 months
Student Sponsors will need to notify the Home Office via their sponsor licence account that a sponsored student has successfully completed their degree course on or before the date of their Graduate Visa application. Students should therefore check with their Student Sponsor that this notification of course completion has taken place before they make a Graduate Route visa application. However, universities do not need to act as sponsors for the Graduate Visa (nor do UK employers)
There is no financial requirement nor English language requirement for the Graduate Visa Route. Partners and/or children under 18 already in the UK as a Tier 4 or Student dependant can apply to extend their stay in the UK as a Graduate Route dependant
Applicants can only have permission under the Graduate Route once. It is possible to switch from the Graduate Route back to the Student Route but an individual could not then apply again for a Graduate Visa based on a new qualification
How much will a Graduate Visa cost?
The Graduate Visa application fee is £700 (with a £55 reduction for most EEA nationals)
Applicants will also have to pay the Immigration Health Surcharge at the full rate of £624 per year of their visa
Graduate Visa Route and Covid-19
As a result of the Covid-19 pandemic, concessions have been put in place for international students who are currently distance learning outside the UK and who may face continued disruption to international travel
There is no deadline for returning to the UK for students whose course is longer than 12 months, which started anytime. Students sponsored for a course lasting longer than 12 months will not be prevented from being eligible for a Graduate Visa as a result of any distance learning that took place either in the UK or overseas between 24 January 2020 and 27 September 2021 or any distance learning that took place overseas between 27 September 2021 and 6 April 2022
However, for students who began a course of 12 months or less in 2020 or 2021 and have been distance learning in their home country for the whole course so far, they will need to come to the UK under the Student Route by 27 September 2021. If their student visa ends before that date anyway, they must come to the UK by the end date of their Student Visa
If someone began a course of 12 months or less in 2020 or 2021 and has already came to the UK with current Student Visa route permission and then switched to distance learning from their home country, they just need to return to the UK on or before the end date of their Student Visa permission in order to make a Graduate Visa Application
Students who commence a course of 12 months or less in Autumn 2021 or Spring 2022 via distance learning from overseas must enter the UK no later than 6 April 2022 and complete that course of study in the UK with permission as a Student to be eligible for the Graduate Route. Students should travel once they are able to do so
International students due to graduate in 2021 and currently studying overseas need to bear in mind Covid-19 travel restrictions when planning to return to the UK in order to apply. For instance, those arriving in England from one of 56 'red list' countries must pre-book a 10 day stay at a designated quarantine hotel at their own expense. This costs £1750 and it is mandatory to take Covid-19 tests on Days 2 and 8. Click here fore further information
Does the Graduate Visa lead to Settlement in the UK?
The route does not count towards settlement
However, graduates will be able to apply to other UK visa routes at the end of their two or three year Graduate visa stay - for example, the Skilled Worker, Global Talent or Innovator routes
The long-awaited launch of the Graduate Visa route on 1 July 2021 demonstrates the UK Government's commitment to the International Education Strategy, which aims to increase the number of international higher education students in the UK to 600,000 by 2030. It also shows that the UK's post Brexit points-based immigration system aims to retain the brightest and the best.
For Further Information on the Graduate Visa Route, please contact Anna Blackden in Doyle Clayton's Education Team.
Key Contacts
Partner & Head of Immigration
T: +44 (0)20 7778 7233
Partner
T: +44 (0)20 7778 7224
Senior Associate
T: +44 (0)20 3696 7170
The articles published on this website, current at the date of publication, are for reference purposes only. They do not constitute legal advice and should not be relied upon as such. Specific legal advice about your own circumstances should always be sought separately before taking any action.