Mental Health - Lockdown and Working from Home (Session 2)
---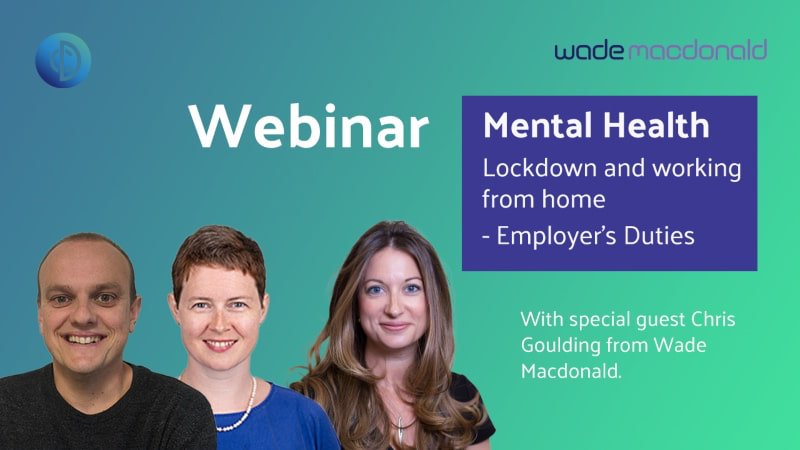 What are the duties on employers arising from the mental health impact of the ongoing lockdown and working from home arrangements?
Doyle Clayton's Alison Garrow and Rose Smith along with Wade Macdonald's Chris Goulding reflect on the results of Wade Macdonald's survey looking at how employers are adapting their workplaces in response to wellbeing concerns during the COVID-19 pandemic.
This webinar revisits the 4 February (which you can watch here) session and covers what organisations are doing in practice including:
- The steps they're taking to protect and support their employees and their mental health

- Changes and increases in the welfare support offered to employees

- Strategies for engagement, including performance management, motivation and morale

- Spotting mental health concerns in the remote working setting

- Action taken when a mental health concern has been identified

- Spotting and taking action where domestic abuse is suspected

- Plans for the future and adapting to reopening workplaces
Click here for access to Wade Macdonald's Report following on from the survey.
Webinar Takeaways
The findings that we found particularly interesting in the Wade McDonald report are:
60% of adults have experienced a negative impact on their mental health since March 2020.
There was a reduction in the proportion of businesses who propose to continue offering staff welfare support after the pandemic restrictions are lifted.
7% of business do not propose to offer any support in terms of staff welfare once the pandemic restrictions are lifted.
The key point to take away from the webinar is that now is not the time to take focus away from staff wellbeing, and mental health concerns in the workforce. We are facing a time of change, which can be unnerving in and of itself. The mental health impact of the pandemic is likely to be long term, and is unlikely to drop away at the same rate at which the restrictions are eased. Employers should continue to monitor and check in with their workforces, and put in place arrangements to assist with their wellbeing, if possible.
Interested in a particular area? Find the answer easily without watching the whole webinar (times are approx)
1. Minutes 1-3. Intro
2. Minutes 3-14. Wade Macdonald report summary
3. Minutes 14-24. The law
4. Minutes 24-26. Toxic relationships
5. Minutes 26-28. Discrimination
6. Minutes 28-29. Mental health is a disability
7. Minutes 29-32. Mental health is now a pressing topic
8. Minutes 32-40. What proactive steps can employers be taking to support and protect the mental health of their workface?
9. Minutes 40-42. Adapting for the long term
10. Minutes 42-43. How do employers keep their employees motivated remotely?
11. Minutes 43-55. Spotting mental health concerns
12. Minutes 55-59. What action should be taken when your aware of an issue?
13. Minutes 59-60. Things to consider in relation to employee mental health as lockdown lifts and restrictions are eased

Key Contacts
Legal Director
T: +44 (0)20 7042 7206
Legal Director
T: +44 (0)20 7042 7205
The articles published on this website, current at the date of publication, are for reference purposes only. They do not constitute legal advice and should not be relied upon as such. Specific legal advice about your own circumstances should always be sought separately before taking any action.