Peter Daly Selected for The Lawyer Hot 100
---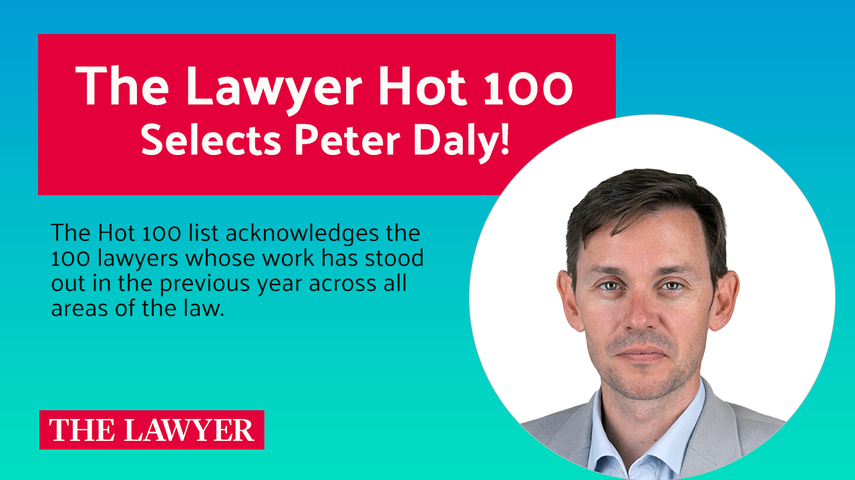 Congratulations Peter Daly!
Doyle Clayton is pleased to announce that Peter Daly has been selected for The Lawyer Magazine Hot 100 2022. The list, published annually, acknowledges the 100 lawyers whose work has stood out in the previous year across all areas of the law.
Peter's work in the past year has built on his previous reputation for taking complex and eye-catching cases, and for securing positive results on behalf of his clients. Perhaps of most note was the successful appeal in Forstater v CGD Europe & Ors in the Employment Appeal Tribunal, which established gender critical beliefs as being protected under the Equality Act 2010. Peter has also acted for a number of other clients with gender critical beliefs, including Allison Bailey, Professor Kathleen Stock, Raquel Rosario Sánchez, Katie Alcock and others whose names are not in the public domain.
In Peter's case of Dobson v Cumbria Partners NHS Foundation Trust, the EAT reinforced the law of indirect discrimination, and cemented judicial recognition of the reality that women are more often than not primary child-carers, and therefore policies which disadvantage child-carers are indirectly discriminatory against women.
Peter said:
"It is a great honour to receive this recognition. I am grateful to the fantastic team here at Doyle Clayton whose support has made it possible. I am grateful also to The Lawyer. But it is the clients who have made this possible: the work which has been recognised by this award is litigation, and the decision to litigate is difficult and often life-changing. Although I have been lucky enough to receive The Lawyer magazine's recognition, really it is an acknowledgment of the women for whom I have been acting."
Peter is a partner in the Employment team at Doyle Clayton, and joined us in March 2021. Although much of the work which has received public attention concerns claimants in litigation, he also advises employers and employees across the full range of employment law issues.

Read more about Peter Daly and his work.
The articles published on this website, current at the date of publication, are for reference purposes only. They do not constitute legal advice and should not be relied upon as such. Specific legal advice about your own circumstances should always be sought separately before taking any action.