Goodbye to the Tier 1 (Investor) category
---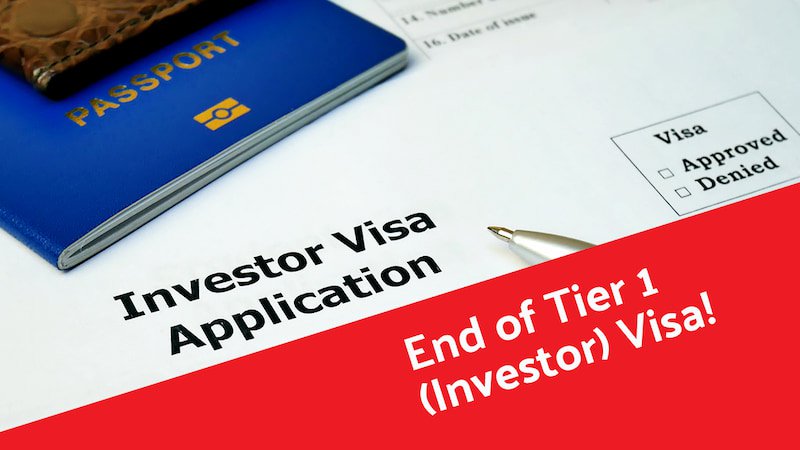 Tier 1 (Investor) category closed
With rumours emerging on Wednesday evening via various news media outlets, the Home Secretary formally announced on Thursday via Twitter that the Tier 1 (Investor) category is now closed to new applicants.
When?
In a Statement of Changes to the Immigration Rules published at 16.04pm on Thursday, she confirmed that rule changes closing this category took effect at 16:00pm. The Tier 1 (Investor) category is no longer available to new applicants. The government made clear that they wanted to avoid triggering a 'closing down sale' effect with a substantial increase in applications submitted in advance of the closure.
Why?
The Home Secretary has justified the removal of this category due to long-standing security concerns involving people acquiring their wealth and it being associated with wider corruption. This is a demonstration of the government's New Plan for Immigration in action in a post-Brexit UK and its 'renewed crackdown on fraud and illicit finance'. According to Home Office analysts and a review of extension applications granted in 2019, only a very small minority of cases could be classified as contributing to Foreign Direct Investment, a form of inward investment which is thought to provide the most direct and positive contribution to the UK economy. The economic benefit is therefore not seen to have a big enough impact compared to the continued risk of exploitation by individuals seeking to transfer illicit funds to the UK. While it is recognised that reforms were introduced to address concerns, these are now deemed not to be sufficient to address the risks of transferring illicitly obtained wealth.
How?
Immigration practitioners are used to numerous changes to the Immigration Rules (we are currently bracing ourselves for a new cohort in the Spring) but to close a whole category with immediate effect is a rare and bold move from the Home Secretary. At the very least we are usually given 21 days to get our heads around significant changes and the introduction of completely new categories. Now, only individuals who already have leave to enter or remain as a Tier 1 (Investor) migrant (or are outside the UK and have held leave as a Tier 1 (Investor) migrant in the 12 month period preceding the date of application) will be able to extend their stay and/or apply for settlement under this route, subject to the relevant criteria.
What's next?
To facilitate the targeting of the 'right kind' of Investor wanted in the UK, the government has indicated that they will be making changes to the Innovator category. The Innovator category replaced the Tier 1 (Entrepreneur) scheme and was originally aimed at experienced entrepreneurs and business people establishing an innovative business in the UK, with the endorsement of a Home Office approved body. The purpose of the Innovator category is to set up a new business or develop a new business idea in the UK with the main financial requirement requiring applicants to have £50,000 to invest or to have already invested that amount in the UK company.
Individuals currently with Tier 1 (Investor) permission should be able to extend their permission until 17 February 2026 and must apply for settlement by 17 February 2028. Such applications which will now be 'conditional on applicants executing an investment strategy that can show a genuine job creation and other tangible economic impacts'. How such expectations will be met is yet to be announced but given some of the potential requirements mentioned, it will be interesting to see how the Home Secretary will carve these out for individuals looking to remain in the UK who have been here for a number of years in compliance with historical requirements. Ultimately the Home Office's position is clear, 'passively holding UK investments will no longer be enough to obtain settlement in the UK.'
Key Contacts:
Partner & Head of Immigration
T: +44 (0)20 7778 7233
Partner
T: +44 (0)20 7778 7224
The articles published on this website, current at the date of publication, are for reference purposes only. They do not constitute legal advice and should not be relied upon as such. Specific legal advice about your own circumstances should always be sought separately before taking any action.