Zahira Patel
Associate | London (City)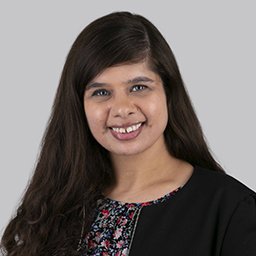 Zahira is a UK immigration specialist advising both organisations and individuals.
An Associate Solicitor based in our City office, Zahira specialises in advising both organisations and individuals on UK immigration law. Drawing on a previous role as an on-site Brexit specialist for a global tech sector client, she also manages cross-border immigration projects for corporates.
Business immigration areas Zahira regularly advises on include the right to work, sponsoring skilled workers and compliance as well as obtaining Skilled Worker and Intra-Company Transfer visas for employees, sponsor licence management, whether options such as the Hong Kong British National Overseas (BNO) or Ancestry routes are more beneficial and she also provides strategic advice on options for large graduate intakes.
Her practice has a strong European application and international law focus including the EU Settlement Scheme, Frontier Worker Permits, options under the International Agreement Worker route, and the UK's trade deals with other countries. As well as UK immigration expertise, Zahira has experience of managing large-scale projects for clients. This has seen her coordinate projects across Europe, Middle East, and Africa (EMEA) with global co-counsel while completing clients' UK casework to ensure a streamlined, globally consistent service.
Clients Zahira has helped range from some of the world's largest and best known corporations through to investment banks, high net worth individuals and individuals seeking pro bono advice on the impact of homelessness and domestic violence. Areas that she has advised on include complex areas of law such as discretionary leave to remain applications, surrogacy arrangements, domestic workers and prior criminal convictions. She is particularly adept at liaising with Home Office contacts to find creative solutions in challenging circumstances.
Before joining Doyle Clayton, Zahira was a Senior Associate in a well-known global immigration firm where she acted as an EMEA project manager for large financial services clients in addition to overseeing their UK immigration work. This saw her work closely with global co-counsel, colleagues, and government authorities to deliver strategic and tactical advice. She also managed the firm's pro-bono projects and was seconded on-site to work for a well-known tech business managing their Brexit contingency planning. She advised both UK nationals in the EU and EU nationals in the UK as part of this and draws on the experience to advise on global immigration matters ensuring clients also consider tax, social security, healthcare, employment and labour law, as well as Covid-19 restrictions.
Zahira actively advocates on behalf of her clients' interests through contributing to policy work focused on improving the UK immigration system. This has included the potential for a differentiated immigration regime for Scotland for a policy paper commissioned by a well-known political party, advising on how UK immigration law can better accommodate the needs of tech start-ups in the UK for a digital policy group, and reviewing digital immigration systems for a charity helping EU nationals.
Externally, Zahira regularly hosts webinars and events on the implications of Brexit and the EU Settlement Scheme and has contributed to guides for employers and human resources professionals on this area.
Notable work includes-
Advising a global organisation on options for its various worker populations for a large-scale UK construction project, requiring over 40 workers. This included reviewing and advising on options under the International Agreement Worker, Skilled Worker, Intra-company Transfer, Frontier Worker Permit and Visitor routes.
Liaising with the German Embassy in London and co-counsel to advise a digital media client on dual German and British nationality options for their Chief Executive Officer.
Secondment to a well-known tech-business's client site to manage their Brexit programme and contingency plans, covering UK nationals in the EU and EU nationals in the UK.
Liaising successfully with the Home Office and filing a discretionary application for a client who had a complex history in the UK, including prior criminal convictions.
Advising a same-sex couple on options for their daughter who was born via surrogacy arrangements in the United States of America (USA), including liaising with family law advisors. This included filing a successful Dependant Application enabling their daughter to enter the UK with her parents and the family to formally commence adoption proceedings in the UK.
Liaising with the Home Office on behalf of a global financial services sponsor in relation to an unusual secondment arrangement for their senior employees in which the employees were paid by another company. Zahira helped the client to prove to the Home Office that sponsor obligations could be met, resulting in the arrangement's approval.
Successfully filing and expediting a discretionary Leave to Remain application on behalf of a client who was undergoing chemotherapy in the UK and could not travel back overseas before her visa expired during Covid-19.
Comparing global regional immigration systems for a policy paper on the potential for a differentiated immigration system for Scotland - commissioned by a major Scottish political party.
Advising a dual German and British national on options to allow his dependent mother to join him in the UK. This included completing a complex EUSS Family Permit application based on the dual German/British ('Lounes') sponsor and a dependant parent and working with global contacts to coordinate tax, social security and healthcare advice.
Advising on a pro bono basis, a homeless client on his application under the EU Settlement Scheme, including working with third party charities to evidence his residence in the UK.
Advising a client on alternative documentation for her due EU Settlement Scheme application as she was unable to obtain the necessary documents due to domestic violence.
Managing large-scale EMEA-wide graduate programmes for well-known global investment banks including conducting comparative analysis for clients to assess the quickest possible routes for UK nationals into other EU Member States, advising on H1B contingency planning for employees or candidates based in the USA, coordinating local town hall registration requirements for EU nationals posted to other EU Member States and obtaining appropriate work authorisation for UK-based roles.
Articles include-
Webinars include-
Experience and qualifications
Qualified in October 2017
Specialist in immigration law since March 2017
Specialist in global/EMEA project management and Brexit contingency planning since December 2019
Education and professional memberships
The London School of Economics and Political Science (LSE) – LLB Law
Member of Immigration Law Practitioners' Association (ILPA)