Allison Bailey wins her discrimination case
---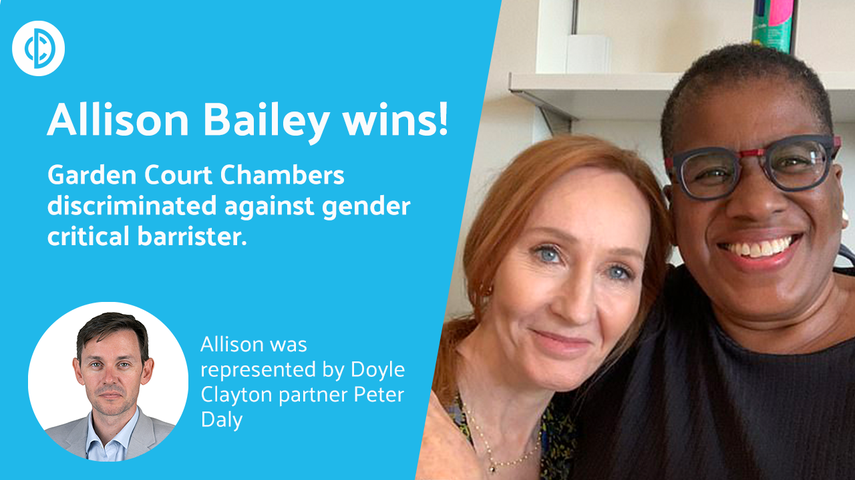 Garden Court Chambers discriminated against gender critical barrister
In one of the most keenly followed Employment Tribunal cases of recent years, Doyle Clayton client Allison Bailey has succeeded in her claim for discrimination against the Barristers Chambers of which she was a tenant.
Miss Bailey, a prominent barrister and feminist lesbian campaigner, brought a claim alleging that she had been discriminated against and victimised by Garden Court Chambers, of which she was a tenant.
A separate claim, which alleged that LGBTQ Charity Stonewall had induced, caused or instructed the unlawful discrimination, did not succeed.
In a 117-page judgment handed down on 27 July 2022, the Employment Tribunal found that Miss Bailey had been discriminated against on the basis of her protected gender critical beliefs, and victimised, by Garden Court's publication of a statement saying that she was under investigation for breaching her professional obligations, and by upholding complaints that had been made about her by Stonewall.
The case captured the attention of the media throughout litigation lasting nearly three years and which culminated in a trial lasting nearly six weeks in April and May this year. The judgment was covered on the front pages of the Daily Mail, The Times and the Daily Telegraph.
Miss Bailey was represented by Doyle Clayton partner Peter Daly, assisted by Associate Emily Battcock. They instructed Ben Cooper QC of Old Square Chambers.
Gender critical beliefs are protected under the Equality Act 2010 following the case of Forstater -v- CGD Europe & Ors. The Claimant in that case was also represented by Peter Daly.
Peter Daly said:
This was extraordinarily hard-fought litigation, which played out in the public eye against the backdrop of the ongoing societal discussion around sex and gender.
Although she was not successful on every claim that she brought, Miss Bailey was successful on the central aspect of it, which was that the treatment she received was unlawful because of her philosophical beliefs in gender critical feminism, which included Stonewall's particular method of campaigning around the issue.
The importance of the case is in showing that discrimination protections are real, and have teeth. Organisations which incorrectly deem one side of a social debate to be unworthy of respect or morally objectionable need to be aware that in so doing they are potentially committing serious breaches of the law, and where that occurs the Tribunals will not resile from taking appropriate action.
ENDS
Notes to Editors:
Allison Bailey is not giving interviews or doing any further press.
For technical questions on the judgment and its significance for employment law in the UK, email Peter Daly at Doyle Clayton Solicitors pdaly@doyleclayton.co.uk. No on-record comments will be given.
The articles published on this website, current at the date of publication, are for reference purposes only. They do not constitute legal advice and should not be relied upon as such. Specific legal advice about your own circumstances should always be sought separately before taking any action.