Karen Holden
Legal Director | Reading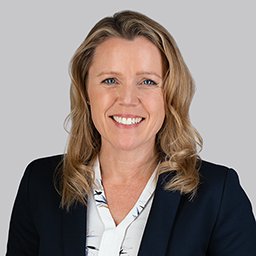 Karen is an experienced Legal Director specialising in advising organisations and individuals on employment law and related HR issues.
Karen is a Legal Director with coming up to 20 years' experience of advising employers and senior executives on employment law and related issues. With a career starting in the employment team at Shoosmiths, where she trained and qualified, Karen subsequently joined Doyle Clayton's Reading Employment team in 2021.
Much of Karen's time is spent advising corporate clients. These range from fast growing start-ups to established UK businesses and global multinationals where she helps HR professionals, overseas legal counsel, CEOs, COOs and MDs deal with the employment issues faced by their organisations, make the best possible people and HR related decisions and pragmatically minimise the risk of employment litigation.
Specialisms include dealing with complex employment litigation involving TUPE transfers, whistleblowing and unlawful discrimination, with a particular emphasis on sex, race and disability discrimination matters. Other areas she regularly advises on are compliance, contractual terms, disciplinary, , grievances, ill-health and capability procedures, policy, redundancy processes, protected conversations, negotiating senior executive exit arrangements, settlements and employment tribunal litigation. Bespoke training is regularly provided for HR and in-house legal teams.
Karen also acts for individuals advising on data subject access requests, contractual disputes and negotiating exit packages. Grievance she regularly assists with include bullying and harassment complaints, discriminatory conduct, working time issues, constructive and unfair dismissals, defending disciplinary proceedings and challenging capability processes.
What people say about Karen
"Karen has been supporting the People Team at Berry Bros and Rudd Ltd for a number of years. Her advice has always been pragmatic and commercial but still sympathetic to the needs off a historic family business. Always ready to help with clear suggestions and solutions, I would recommend Karen as an excellent business partner in the Employment Law arena".
Melissa Proles, People director, Berry Bros. & Rudd
"I have worked with Karen for many years now and her level of expertise and professionalism is of the highest quality. She took the time to understand our business and got the results we asked for every time. Karen is outstanding at what she does, and I highly recommend her services".
Emma Jones, HR SENKO Advanced Components
"Karen has worked with us at Bright Futures on many difficult cases. Her pragmatic style together with her extensive knowledge is second to none. she understands our business and I cannot rate her highly enough".
Paul Smith, Brighter Futures for Children
"Karen is an outstanding employment lawyer, and I would not hesitate to recommend her to anyone. She is professional and personal, and always takes a commercial and pragmatic approach to whatever situations are thrown her way. You can be confident that Karen will achieve the best outcome possible, and she is simply the best employment lawyer I have ever worked with!".
Derek Brooks, Neles UK Ltd
"I have always found Karen Holden to be a great asset when dealing with my HR requirements and have now dealt with her for many years. If you have any issues relating to employment and HR I would highly recommend that you work with Karen to assist in resolving these matters".
Paul Abbot, Director, SSR Limited
Other Recent feedback includes -
"Professional and very thorough. Dealing with her has been very easy, friendly and I felt well supported. All in all very high quality service. Would definitely recommend..."
"Karen did a fantastic job for me, extremely knowledgeable and efficient which resulted in a much improved compensation figure. I would have no hesitation in recommending her."
"Karen was professional, efficient and always there to answer my questions"
Recent work includes -
Acting for a company in defending a multiple claimant claim of race discrimination, whistleblowing and unfair dismissal.
Advising a global company on inter-group TUPE transfers and guiding them through the employee information and consultation process.
Acting for a company client in defending a claim of disability discrimination and constructive and unfair dismissal.
Acting for a senior HR employee in an equal pay and sex discrimination claim against a 'big four' bank.
Acting for an employee client in a complex 19 day employment tribunal hearing involving claims of race discrimination, whistleblowing and constructive and unfair dismissal against a corporate and a number of individual Respondents.
A frequent speaker at employment law events, seminars and webinars she is also a regular media commentator on HR and employment related issues.

Experience and qualifications
Qualified as a Chartered Legal Executive in June 2010
Specialist in Employment Law since March 2004
Professional memberships
Employment Lawyers' Association
Karen Holden works in Reading, Oxford, Basingstoke and surrounding areas and has clients all over the UK.