Covid-19 restrictions to end on 24 February
---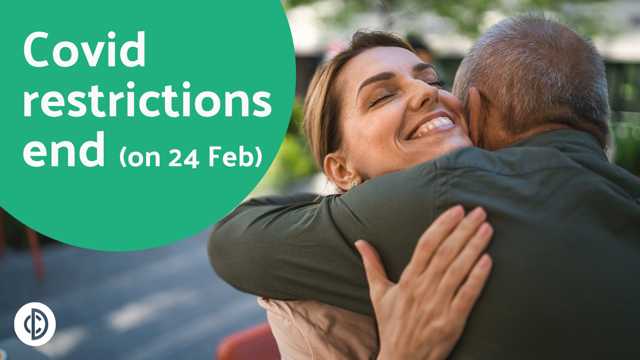 The Prime Minister has set out his plans for ending Covid-19 restrictions in England and for Living with Covid-19 going forwards.
Self-isolation no longer legally required
Changes to the self-isolation rules will take effect from 24 February.
Positive cases
Those testing positive for Covid-19 will no longer be legally required to self-isolate. The legal requirement is being replaced with advice.
Anyone who tests positive is advised to stay at home and avoid contact with other people, particularly anyone in an at risk group, including if they live in the same household. Those testing positive may choose to take a lateral flow test after 5 days, followed by another the next day. If both tests are negative and they do not have a temperature, they can safely return to their normal routine.
Close contacts
Unvaccinated close contacts will no longer be legally required to self-isolate. Vaccinated close contacts and the under-18s will no longer be asked to take a lateral flow test for 7 days after contact with a positive case.
There will be guidance setting out the precautions that people are advised to take if they live or have stayed overnight in the same household as someone who has Covid-19. Other contacts will just be advised to take extra care in following general guidance for the public on safer behaviours (see below).
Alongside these changes:
Routine contact-tracing will stop from 24 February, with those who test positive encouraged to inform their close contacts so that they can follow the guidance.
Self-isolation support payments for those on low incomes will end on 24 February.
Statutory Sick Pay Changes
From 24 March, the COVID-19 provisions within the Statutory Sick Pay Regulations will be removed. As a result, Statutory Sick Pay will only be paid to those who are not well enough to work. In addition, Statutory Sick Pay will no longer be payable from Day 1 for Covid-related absences. Instead, it will be paid from Day 4 in line with sickness for other reasons.
The Statutory Sick Pay Rebate Scheme will close on 17 March. Employers have until 24 March to submit any new claims for absence periods up to 17 March, or to amend claims they have already submitted.
Testing to end
Asymptomatic testing - The Government has removed the guidance for staff and students in most education and childcare settings to undertake twice weekly asymptomatic testing. This was removed on 21 February.
Free tests - From 1 April, free Covid symptomatic and asymptomatic testing for the general public will end. Anyone who wishes to buy tests will be able to do so. There will also be limited ongoing free testing for a small number of at-risk groups and for social care staff.
Covid-status certification
NHS domestic Covid pass - From 1 April, the Government will remove the current guidance on domestic voluntary Covid-status certification and will no longer recommend the use of the NHS Covid pass. The NHS Covid pass will remain available in the NHS App for a limited period while certification is still used in other parts of the UK.
International travel - The NHS App will continue to allow individuals access to their vaccination status for international travel, as well as their recovery status for travel to those countries that recognise it.
Safe behaviours
In order to reduce the risk of catching and passing on the virus, the Government advises people to:
Get vaccinated
Let fresh air in if meeting inside, or meet outside
Wear a face covering in crowded and enclosed spaces, especially where you come into contact with people you do not usually meet, when rates of transmission are high
Try to stay at home if they are unwell
Take a test if they have Covid-19 symptoms
Stay at home and avoid contact with other people if they test positive
Wash their hands and follow advice to 'Catch it, Bin it, Kill it'
The Government also plans to consolidate guidance to the public and to businesses in line with public health advice.
Businesses and other organisations
The plan contains specific information for employers.
Self-isolation - From 24 February workers will no longer be legally obliged to tell their employer when they are required to self-isolate. Of course there is no legal requirement to self-isolate from that date in any event. Instead employers and workers should follow the guidance for those with Covid-19 (see above).
Risk assessments - From 1 April, employers will no longer have to explicitly consider Covid-19 in their risk assessments, unless they specifically work with Covid-19, such as laboratories. The intention is to empower businesses to take responsibility for implementing mitigations that are appropriate for their circumstances.
Working Safely guidance will remain in place until 1 April, when it will be replaced with the new consolidated public health guidance. Employers should continue to consider the needs of employees at greater risk from COVID-19, including those whose immune system means they are at higher risk of serious illness from COVID-19. The Government plans to consult with employers and businesses to ensure the new guidance continues to support them to manage Covid-19 risks in the workplace. There will be a continued emphasis on ventilation and employers and businesses should continue to identify poorly ventilated spaces and take steps to improve the flow of fresh air.
Further vaccinations?
The Government is considering further boosters for those most vulnerable to Covid-19. Subject to JCVI advice, boosters may be recommended for people who are most vulnerable to serious outcomes from COVID-19 this autumn and, ahead of that, a spring booster for groups the JCVI consider to be at particularly high risk.
Key Contacts:
Partner & Head of Canary Wharf Office
T: +44 (0)20 7778 7225
Partner & Head of Reading Office
T: +44 (0)118 951 6760
The articles published on this website, current at the date of publication, are for reference purposes only. They do not constitute legal advice and should not be relied upon as such. Specific legal advice about your own circumstances should always be sought separately before taking any action.