James Anderson
Partner | Reading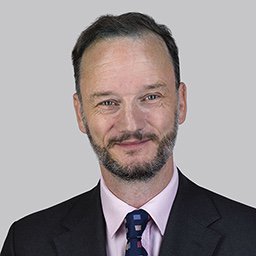 James is an established UK employment law expert and deals with a wide variety of employment matters for both employers and employees. He appreciates that his clients need good advice quickly in order to be able to make the best commercial decisions.
James is one of the UK's leading employment lawyers advising both employers and senior executives. He is ranked by Chambers Guide to the Legal Profession as a "leading individual" in UK employment law and The Legal 500 recommends him as one of the Thames Valley's "key employment lawyers". He is also recommended by the Thames Valley Chamber of Commerce which says that "James is one of the UK's leading employment law specialists".

Recent feedback includes -
He is a very knowledgeable and pragmatic partner whose patience is unlimited and who offers a superior level of support to clients. James is particularly known for his work on employment-related litigation."
Chambers & Partners
"Fabulous tactician" James Anderson is "great on strategy."
Chambers & Partners
"He's sensible and a good guy to work with."
Chambers & Partners
"James Anderson is an excellent lawyer. He's very sensible, pragmatic and very good with clients. He's an all-round good lawyer ..."
Chambers & Partners
"Calm, honest and fair."
The Legal 500
"He's excellent. He was always clear about the strategy, options and risks. When dealing with him, he always made me feel like I was the only client that was important despite that clearly not being the case. His strengths include: consistency, clarity, determination, empathy and expertise."
Client
Following a career at two top ranked employment law teams - where his clients included The Times, RMC Concrete (which became CEMEX), Gate Gourmet, Baxter Healthcare and Oxford Brookes University, James joined Doyle Clayton in 2010. At Doyle Clayton, James has added to his experience as a litigator and advocate regularly advising on TUPE, discrimination and whistleblowing claims as well as complex and often high value discrimination cases. Other areas James regularly helps clients with include -

The appointment and exit of senior managers from SMEs to FTSE and NASDAQ listed companies
Breach of restrictive covenants and confidentiality clauses including bringing and defending injunctions in the High Court
Commercial claims
Partnerships
Advising high net worth individuals on staff issues
Situations with media interest
Employment status
Key relationships
These include many companies and employees in banking, financial services and tech sectors with examples including -
He has been the main point of contact for a large multinational banking group on employment issues for approaching a decade.
He has helped the HR team in one group company to avoid any tribunal claims for over five years. Training for them on various issues has also been provided and recently included sexual harassment in the workplace.
He advised a group company on TUPE issues when it restructured following the acquisition of a large car leasing business.
He advised a group company when a senior female employee resigned and claimed that its CEO had sexually harassed her. The client was committed to zero tolerance of sexual harassment. The investigation produced evidence which indicated that any attention which the CEO showed towards the employee was not unwanted. The client could demonstrate that it took prompt and appropriate action even where the alleged harasser was the most senior employee in the business.
James is also the main employment law advisor for the investment arm of a large multinational group of companies where he often advises on the employment issues relating to highly paid executives.
James' recent work advising organisations includes -
Restrictive covenants/injunctions
A leading Telecom company often refers senior executives who they have recruited to James who advises on the enforceability of restrictive covenants before they join their new employer.
Recovering substantial damages for a client in the recruitment sector who's Managing Director carried out a team move and took a number of clients.
Negotiating the resignation of a client's former Business Development Manager who had joined a competitor in breach of a non-compete clause. The non-compete clause was at the limit of what might have been considered reasonable. This sent a message to both our client's employees and to its competitors that it was prepared to take action to enforce its restrictive covenants, if necessary. The matter was resolved more quickly and less expensively than if our client had applied for an interim injunction.
Discrimination
Representing a client who had been on long term sick with cancer and depression. There was little prospect of the employee returning to work. James advised on the process which lead to the termination of the employee's employment.
Advising a business which was sympathetic to an employee's medical condition. The employer offered a generous termination package which was rejected by the employee who instead brought a claim for direct disability discrimination. Following a year's litigation, the claimant accepted the sum she had originally been offered.
Advising an employer where an employee which has worked for the client for less than two years was dismissed for performance. The employee subsequently issued a grievance, raised a Data Subject Access Request and brought a claim in the employment tribunal for direct religious and race discrimination. James used costs warnings and applied for a deposit order which enabled the claim to be settled for a sum which barely covered the employee's legal costs.
Reorganisations
Advising a number of employers in the entertainment and catering sectors on redundancies following the Covid-19 lockdown.
Commercial claims
Representing clients in commercial claims in both the County Court and the High Court.
Individuals recently helped with complex employment law issues include -
Senior executives
Advising the MD of a company which is one of Britain's leading specialists in the conservation of historic and contemporary buildings. The employer appointed a co-managing director and then tried to persuade the MD to take a different role on reduced hours. James helped the MD negotiate an exit which enabled his client to leave the business with substantial compensation and start a new business in competition.
Advising a civil servant in a key government department following a number of years of conflict at work.
Advising the MD of a company in a group of companies which specialises in energy efficiency and acoustics. The MD had made protected disclosures to the Group CEO about the illegal behaviour of a senior employee. The Group subsequently tried to manage our client's exit. After nine months it offered him a leaving package. They had not anticipated the MD's whistleblowing claims and with James' help the leaving package was was substantially increased.
Restrictive covenants / injunctions
In 2020 James was approached by a partner at another firm of solicitors. They asked James to act for an employee of one of their clients. The employee had joined the client from a competitor. The competitor sent a letter before action to the employee and his employer alleging that the employee had retained confidential information and approached its customers. The client and the employee had done nothing about the letter. Consequently, the competitor had issued proceedings and applied for an injunction before the employee took legal advice. James negotiated a settlement where no damages were paid to the former employer.
Discrimination claims
James has successfully represented individuals with disabilities as diverse as obstructive sleep apnoea and post-polio syndrome. When told of the settlement James managed to achieve for him, one client replied "Awesome".
James is currently acting for a client who has a claim against his former employer where compensation is potentially a seven-figure sum. He is also conducting an equal pay/sex discrimination claim against a well-known multinational technology company.
James has delivered training and presented seminars on a large range of Employment related issues. He has published articles and podcasts on various employment related subjects in The Employment Lawyer, the New Law Journal, The Construction Specialist's Newsletter and various employment law websites.
Experience and qualifications -
Qualified in May 1996
Specialist in Employment Law since 1996
Professional memberships -
Employment Lawyers Association
European Employment Lawyers Association
Legal Innovation and Technology